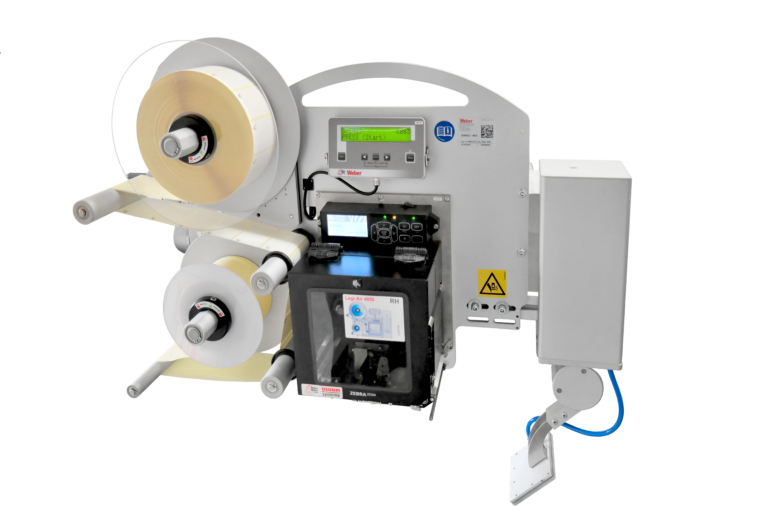 The Weber Legi-Air 4050 B is the new Print & Apply system in the portfolio of Weber Packaging Solutions, which will take your production to the next level. We introduce the first fully electric Print & Apply system belonging to the Legi-Air 4050 Series family, designed and launched specifically according to our customers need.
The Legi-Air 4050 series stands out from other labeling systems because of its modular construction and flexibility. These characteristics make your operation easier, whilst ensuring business continuity. We know that your production can't stop, neither do our systems!
We as a company listen to our customers' needs and requests, our R&D team at Weber Packaging Solutions, have developed a fully electric Print & Apply system. The new Weber Legi-Air 4050 B is a fully electric system that ensures safe, fast and accurate automatic Labelling… whilst being electric!
What does it mean to be electric? Predominantly Labelling Systems in the marketplace are Pneumatically operated and require a continuous supply of compressed air which is becoming increasingly expensive in today's manufacturing environments. The electrically powered system replaces the pneumatic components with electric servo motors which provides a reduction of up to 80% of the Total Cost of Operating the device.
Modularity and Adaptability
Compact and modular as the entire Legi-Air 4050 family, the 4050B works with all major print engines while presenting a new smart software that is versatile and is easy to reconfigure for a change in application requirements. It is quite common in manufacturing to make changes to their production lines or indeed change process flows often. Our range of 4050B Labelling Systems allows for the changing of settings due to new label sizes or matching different products characteristics as your operation demands. The 4050B control software allows your operation to be more agile allowing these changes to be made quickly without needing mechanical adjustments. Also like all of our Labelling Systems the system is modular in design with easy to remove unwinder, rewinder, and Print Engine in the event of a critical component failure. This provides significant benefits for 24/7 operation where downtime is a cost critical factor.
Go beyond, Be Electric!
The Weber Legi-Air 4050B is available with three different electric applicators:
Last but not least, the Legi-Air 4050B is also available with a pneumatic applicator for contactless applications, especially for fragile products or surfaces.
Get to know the complete range of the 4050B Series here: