Weber customers know the answers to all their ordering questions are just a phone call away.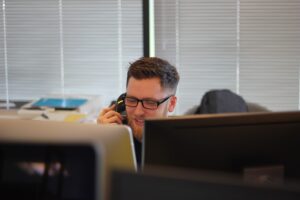 As your equipment ages, there is the high risk of production stoppages and downtime. By partnering with us at Weber, we can ensure that your equipment will function correctly and that you will prolong its overall life span. By doing so, downtime risks are then significantly reduced assuring printer availability and code quality, thereby getting the most out of your printing machines.
In addition to a direct account representative right in your area, there is an experienced team of customer service representatives at our world headquarters waiting to assist you. They are equipped with the latest real-time, order-entry systems to promptly handle your requests.
Our goal is to ensure that every customer always finds it a pleasure to do business with Weber. In a recent survey, Weber clients rated our customer service representatives as being among the best at providing fast and friendly service.
Service Department: