Label Printing / Manufacture
Cost-effective self-adhesive labels for industry and trade: We are experienced and reliable manufacturers and suppliers of professional solutions to applications and demands in all industries. Be it blank, high-quality printed or with special functionality: We will supply you with customised labels manufactured in-house – designed to your production and logistics!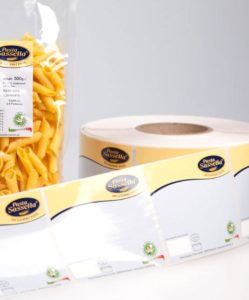 Top quality manufactured in-house
Customised sizes and shapes
Professional order processing
Certified quality management: ISO 9001
Quick delivery ex-stock
Our Products
Label printing by Weber Marking Systems
Self-adhesive labels are true high-performance artists: Hundreds of millions of these are used daily as carriers for information or advertising on products and packaging. They serve to trace goods, may contain important consumer information or may even optimise logistics. They are also commonly called 'stickers'.
The requirements for the label will often change as the product changes. Whilst pull-off labels should be easy to peel off, other adhesive labels should stay firmly stuck for several years. Many issues should be taken into account in your selection. Especially the proper adhesive is a science in itself. We have the know-how needed to supply the industrial labels to satisfy your specific needs. Weber Marking Systems will offer you customised adhesive labels for all your industrial applications!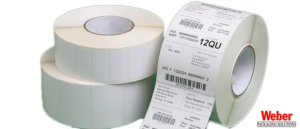 We will supply the following finished labels on your request:
colour printed or blank
on rolls, on sheets or leporello folded
perforated, punched or slit
sequentially numbered
Different types of labels are available for different applications, such as:
Peel-off/removable labels
Booklet labels
Delaminated labels
Scented labels
Continuous labels
Transparent labels
Grease- and oil-resistant labels
Foil labels
GHS labels (for hazardous substances)
Heat-resistant labels
Inkjet labels
Carton labels
Food-safe labels
Food labels
Peel-off labels
Tyre labels
Tear-resistant labels
Round labels
Acid-resistant labels
Seal labels
Tamper evident labels
Fabric labels
Nameplates
Waterproof labels
Wine labels
Weatherproof labels
Labels on a roll – for label printers and labelling machines
You will need labels on a roll for industrial label printers and for fully or semi-automatic labelling machines. Label rolls are threaded in to then print the labels and/or dispense them onto the desired surface. Label rolls allow faster labelling than labelling from sheets. We offer labels on rolls for all standard label printers such as Zebra, Sato, Datamax, etc.