Thermal Printhead Cleaning Made Easy
Keep your thermal printheads clean!
Both in Barcode Printers and Automatic Printer Applicators, the primary cause of printhead failure is a development of a residue build up of label dust glue and debris from the Thermal Printing Process. The build up of this residue prevents the Thermal Printhead from transferring heat to the Label or Thermal Ribbon and causes hotspots to develop thereby reducing Print Quality and shortening Printhead Life. We at Weber want to ensure you maximise the lifetime of your Printhead and ensure you maintain the maximum Print Quality afforded to you by choosing Weber Labelling Systems.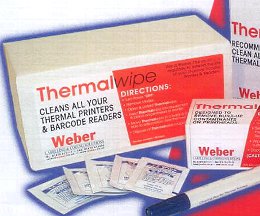 Weber are here to provide advice and general support on your Labelling Systems maintenance:
Recommended Cleaning Intervals dependant on your Systems usage and any Environmental Conditions
Barcode Verification and Barcode Systems Audit at your site
Training Courses in Basic and Advanced Maintenance procedures for your staff and maintenance team
Advice on Labelling Materials and Thermal Transfer Ribbon to ensure Print Quality and Maintain Barcode Quality
Weber Packaging Solutions provide a number of Printhead Cleaning Options to ensure you maintain your Print System ranging from Cleaning Pens, Cleaning Wipes and a complete Cleaning Kit with detailed instructions on maintaining your Labelling System.
Please check our Youtube site for useful videos on Cleaning your Barcode Printer Weber Youtube Videos
Download our Cleaning Kit E-Book here