Gourmet labelling at a price as cheap as chips
To emerge in the current extremely focused commercial market your item needs to emerge from your rivals. A blend of inventive outline, clear types and outstanding pictures are expected to pass on a brand's message and raise customer's advantage. Weber Packaging Solutions UK guarantees that our clients' labels are attractive and intended to guarantee that the label is instructive and effectively examined so it can perform its pragmatic capacity through all phases of generation, circulation, in the commercial centre and in the customer's home. The nourishment business is obliged to stay informed concerning a considerable measure of data about their items to guarantee their items are sheltered, taken care of effectively and conform to FDA and different regulations.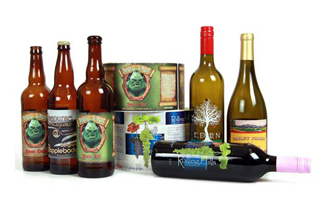 Fresh Produce
Produce can show various issues with regards to labelling. Bundling can be of various shapes and materials. Variable data may need to be included among or after the labelling procedure. Labels may need to have data for fare in a wide range of dialects. Labels need to face the difficulties of sustenance handling and stockpiling (chilly/cooler temperatures, dampness, scraped area, wet surfaces) and are safe for applying to food.
Beverages and Wine
Drinks demand a prime label that passes on the item's character. This label ought to tempt the shopper in an extraordinary and unmistakable way.
How has Weber given answers for the Food and Beverages industry?
Application in wet or cool situations
Cooler labels for refrigerated or solidified appropriation and capacity
Following and traceability arrangements from source to retire
Clear film materials for a no-label appearance
Wide choice of covered and uncoated materials
Complete container and can naming frameworks
We offer an extensive variety of equipment, programming, materials and ability to meet your particular labelling and coding needs. We likewise give incorporated labelling arrangements that are remarkably designed to streamline particular item recognizable proof and taking care of operations. Numerous organizations in the nourishment business have used Weber's extensive variety of incorporated frameworks. Everyone is extraordinarily built to address a particular application, yet sufficiently adaptable to fit flawlessly into a current bundling line.
Documentation