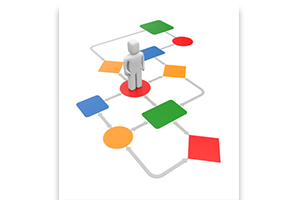 Product Traceability, Brand Protection, and Process Control
With certain consumer goods manufacturers must have a number of systems in place so that they can provide a trail of information that goes through the supply chain for each item. This allows insurance for product safety in the case of a recall, so the producers can act quickly, efficiently and locate items that may be faulty that could cause or pose a hazard to their consumers. In order to achieve this a lot of companies are now implementing 2-D barcodes, vision systems and image–based ID readers as crucial components in a traceability system.
As a standard, Data Matrix has been adopted into many applications as it allows more storage, such as Product ID, Manufacturer, Expiry etc.
Brand Protection
Collection with serial numbers for security in the inventory network and check of items on the purpose of offer can assist with stopping forging, preoccupation and unapproved deals.
Moreover, enhancing material taking care of and logistics capability and adaptability, item perfection and income, and bundle security and unwavering quality, machine vision can likewise be connected on the handling side to lessen scrap, enhance efficiency and quality control and in addition improve brand picture. A dream framework can sort sustenance and drink items by shading and/or shape. It can likewise distinguish imperfections, tally, check get together and recognize fill levels. By doing as such this accomplishes change with assembling and bundling.
Arranging jugs is another application, sorting containers in light of their shape. Machine visioning can perceive appropriately confronting jugs and license them to go through. Mistakenly confronting containers are distinguished by the vision sensor which flags the system to change the jug to the right position.
Traceability:
The better and more exact the track and follow framework, the speedier you can recognize and resolve issues.
Enhances administration of work in advancement
Decreases stock
Improves accessibility and utilization of generation instruments
Minimizes dissemination of non-adjusting items