Axicon 12000 2D Barcode Verifier
The Axicon 12000 2D verifier is designed to give repeatably highly accurate results when verifying Datamatrix and similar barcodes. The Axicon 12000 conforms to all of the latest ISO, GS1 and Pharmaceutical standards – and the Axicon 12000 has pioneered the AI content checking for the different pharmaceutical requirements (CIP, Turkish Ministry of Health, etc). The Axicon 12000 is designed for all 2D barcodes where an aperture size of 3mil or more is required (up to the scan area available – see scan area details overleaf) – the user can set the aperture either directly or by specifying a required Application Standard.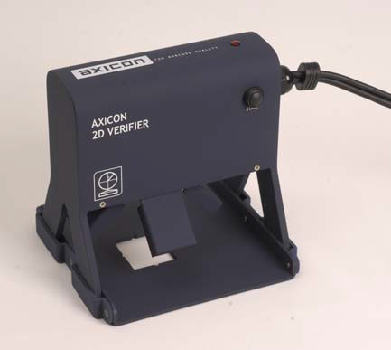 The Axicon 12000 has been designed to be the best ISO verifier available for Datamatrix barcodes – particularly those within the pharmaceutical industry. Using alternative software available the 12000 will also verify QR and Aztec 2D codes, as well as small PDF417 codes.
Simply install the software on your computer, plug the verifier into an available USB2 port and you can be confident that your barcodes are being checked to the highest standards. The standard software includes everything you could ever need from a barcode verifier. Traceability features include automatic saving of files, reports in a variety of formats, data content checks against a wide range of application standards as well as the product look-up function – helping you to ensure that your barcodes are fit for purpose.
The Axicon Verifier, when used in conjunction with the accurately produced calibration sheet, forms an integral part of your ISO 9000 quality control procedures.
Increase productivity and print high-volume, wide labels on demand or in batch with unmatched performance ideal for compliance, product identification and pallet labeling. Standard Features Print methods: Thermal transfer or direct thermal Construction: 12-gauge steel frame Single 32 bit More Standard Features 16 MB SD RAM; 8 MB non-volatile Flash memory Automatic media/ribbon […]

View Product

---

Regardless of whether the A+ printer is operated as a stand-alone solution, a PC application or in a network, it is always up to the mark!  The high-speed processor ensures fast job processing and immediate label output.

View Product

---

All-in-one photo ID systems help you create professional-quality ID, security and commerce-related cards simply and easily. Perfect for organisations of any size.

View Product

---

IDEAL FOR PRODUCTION PREPARATION THE DRS-2000 DESKTOP REWIND STATION OFFERS:

Off-line rewinding
Counts both gap and reflective labels
Variable Speed Control
Tension Control
Great for dispensers and hand held applicators.
Excellent in visual inspection
Easy to operate
Rewind up to 61.5cm/sec.

View Product

---