Zebra 105SL Plus
Economical, dependable, high-performance printing Zebra's 105SLPlus printer provides economical, dependable, high- performance printing. This rugged printer is built for continuous operation, with exactly the features needed for fast, reliable and cost-effective printing in your manufacturing and warehousing environments. The 105SLPlus printer leverages Zebra's proven electronics platform to offer increased speed for high-volume applications – and […]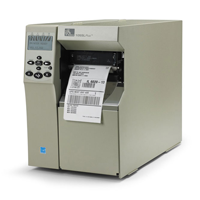 Economical, dependable, high-performance printing
Zebra's 105SLPlus printer provides economical, dependable, high- performance printing. This rugged printer is built for continuous operation, with exactly the features needed for fast, reliable and cost-effective printing in your manufacturing and warehousing environments.
The 105SLPlus printer leverages Zebra's proven electronics platform to offer increased speed for high-volume applications – and increased storage of formats, fonts and graphics. The print quality is outstanding, with E3 ™ technology that also extends the life of the printhead.
Zebra created the 105SLPlus printer with ease of use in mind. The icon- based, multilingual graphical LCD user interface is intuitive to operate, minimising user training and making the printer ideal for a multitude of languages and global applications. The simplified ribbon-loading process minimises downtime.
The 105SLPlus printer offers durable all-metal construction and a robust print mechanism to withstand the toughest environments.
The 105SLPlus printer is designed to easily fit into existing operations. Multiple standard connectivity options including parallel, serial, USB and Ethernet, coupled with full backwards, compatibility, make integration fast and simple. For added connectivity, choose the optional ZebraNet™ b/g Print Server for wireless support.
Ideal for:
– Product identification labels
– Packaging labels – Receiving/put-away labelling
– Work-in-process
Transportation & Logistics
– Order picking/packing
– Shipping/receiving
– Cross-docking
– Compliance labelling
– Shipping
– Returns
– Asset-tracking
–Compliance Labelling
Features

High Speed Throughput 203 / 305 dpi
Flexible Connectivity
User friendly operation
Low Cost of Ownership
Unicode Support
Built in Emulation Language

View Product

---

Matrix-2000™ is a fully integrated area reader that combines a LED lighting system, image capturing, decoding and communication interfaces in a single compact product. Rugged construction and ESD Safe versions make this reader suitable for any industrial application
in all the main industries.

View Product

---

The LI2208 represents the next generation in 1D scanning and builds on our most popular scanner ever, the LS2208. You get the same reliability and ergonomics of the LS2208, combined with enhanced features such as extended range and support for mobile bar codes. With our best-in-class linear imager, you can count on unparalleled scanning performance on every bar code, every time. A patented single circuit board improves reliability by eliminating connectors and ribbon cables, which are the most common points of failure. You can drop it and use it in dusty and damp environments — and still expect reliable operation.

View Product

---

The ZT230 features the durability of a metal frame and cover with an icon based LCD graphical user interface and larger ribbon capacity for long lasting use in demanding environments.

View Product

---