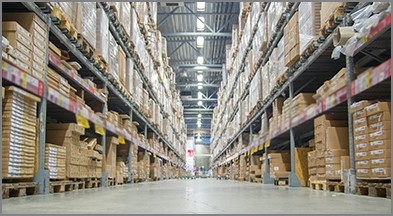 Changing Landscape of Businesses
With the challenges facing us as a result of the Covid 19 Pandemic, more and more companies are moving towards Online Selling and E-fulfilment as a means of distributing their product. With this comes the challenge of having a robust inventory management system that can manage your inventory in real time allowing you to full orders quickly and efficiently to provide the best possible level of service to your valued customer. The handling and tracking of these fast moving orders require a track and trace system where you can easily identify parcels as they are shipped.
LPN (License Plate Number) Labels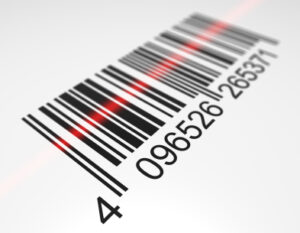 Preprinted License Plate Number labels (often called LPN, Serialized or Sequential Labels) are used in a warehouse with most Warehouse Management Systems to track products from the time they enter the warehouse.  Each handling unit (pallet, bin or case) is labeled with a LPN Label (reference number) as it gets entered into the system so that the details of the pallet, bin or case can be accessed by scanning the barcode.  Quite often, the information associated with the LPN number includes the quantity, pertinent dates and lot numbers. A LPN label is a preprinted label with a number that is unique to that pallet, bin or case.
Barcode license plate labels, are a crucial item for the management and accurate handling of pallets or cartons in distribution centers. Hundreds of pallets and cases might be processed through a single distribution center every day, so identification is very important.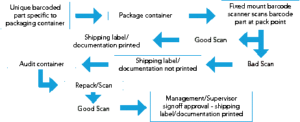 Product Identification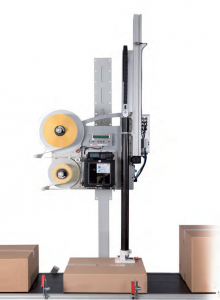 LPN labels are often the primary identifier in a FMCG facility, or a secondary check item in others. The labels are sequentially numbered and can be used as single ID Labels or dual labels which wrap around a corner making them a single application label, visible from two directions. In the more common Distribution Centres the ID Label or LPN Label is the primary identifier of the Carton / Parcel to be shipped, it contains all the information about the product and triggers the logistics system to take the correct logistics data from the Warehouse Management System and Print and Apply a secondary Logistics Label with the correct Logistics Provider Details and finally exit the warehouse onto the Delivery Truck. Due to the speed of the Order Fulfilment process high speed Labelling Systems are required to Apply the Labels to the Cartons at high speed, our Alpha HSM (High Speed Modular) Labelling System can apply LPN Labels at a rate of up to 3500 products per hour. For parcels of variable height we have a specifically designed LA6000 High Speed Tamp Blow System which has the ability to apply pre printed labels or with the correct serialisation system in place can Print & Apply Labels using an integrated Print Engine.
 Why partner with Weber
Printing technologies for LPN labels include thermal printing (with a ribbon) and high speed variable imaging on one of our many Printing presses.  Depending on the quantity of labels, face sheet and adhesive, we work with our clients to determine the most cost effective solution for their operation and run proof of concept testing to ensure that we provide a robust labelling solution for this high speed process.  We offer a complimentary database management system to ensure your barcode LPN Labels will be serialised correctly and that there will not be duplicate Barcode Labels delivered to your side – this is especially important when there are multiple warehouses/locations working with the same Warehouse Management System.  We also offer specialist serial barcode programmes from a set sequence dictated by the customer.
A common request for custom LPN labels is for color, color variations, content dynamics and material durability. A flood coated color label will be easily found against a pallet load of boxes, additionally, the color of the label might also denote the quarter in which the pallet was accepted into the building, which customer it is for or something equally as significant to your operation.
Using low grade paper face stock is often sufficient for most uses, as it's a low cost consumable item. Others may look for a longer lifespan and opt for poly composite materials which are more hardwearing and resilient to changing conditions. Our typical high standards of quality and accuracy are applied to the production of LPN labels, giving customers peace-of-mind that their barcodes will scan on the first attempt, that content is easy to read and that the labels are fit for purpose. The entire Order tracking process depends on the ability of your scanner being able to read the LPN Barcode at high speed so Print Quality and Grade A Barcode reads are a must for this operation.
Label Format Supply Options
Single Rolls – These are standard rolls of sequentially printed barcode labels, available in most sizes.
Single Twin Rolls – We can supply two identical labels which sit next to each other on the roll or one after the other. These are popular with companies handling smaller pallets, crates and/or cartons.
Single Dual Rolls – A label which has two sets of content per label. They can be wrapped around the corner of a pallet and are typically ordered sequentially.
Dual Twin Rolls – a label with two sets of content and presented with an exact copy next to it on the roll.  Popular in large distribution centers handling  large pallets as only two label applications label four sides of the pallet.
Weber Single Source Supply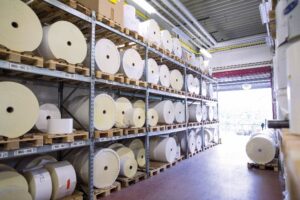 As a supplier to many large Online Retailers, Distribution Centers and Fulfillment Companies, we have developed a number of strategies and inventory supply schedules to help customers maintain a reliable and continuous supply of license plate number labels. We can hold stocks of your LPN labels, or arrange scheduled production dates so a shipment is always readily available for your order. As a Global Manufacturer of Self Adhesive Labels and Labelling Systems you can be sure of standardisation of supply and consolidation of pricing for Global Supply Agreements.  Single and multi site supply agreements are quite common, both are handled with care as we understand the importance of time critical deliveries and the logistics involved for high dependency facilities. We provide regular forecast schedules and can work with the customer on a one to one basis to ensure we plan proactively rather than reactively for peak supply periods and seasonal demands in your business.
As a Direct Manufacturer of Automatic Labelling Systems, Inkjet Coding Systems, and indeed a Global Manufacturer of Self Adhesive Labels you have the benefit of having a complete solutions provider, ensuring you have consistency in manufacturing and a direct link with the manufacturer with a Global Support network to ensure your business has the support they need regardless of location.
Looking for the perfect labeling or printing solution?
Weber Packaging Solutions is your partner for demanding labeling applications in all industries. We are happy to help you succeed! Ask us for more information and expert consultation at sales@weber.co.uk