Weber Alpha HSM Label Applicator
The Alpha HSM (High Speed Modular) is our new modular compact Labelling System designed with versatility in mind.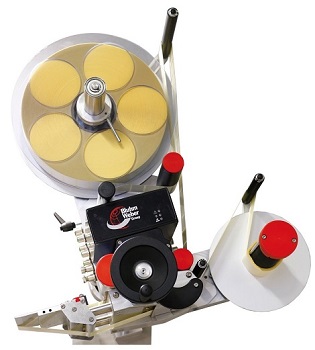 No two packaging lines are the same these days, with many companies demanding more flexibility for new automated labeling equipment to fit their existing production lines. The Weber Alpha HSM is the solution – a compact modular high speed servo driven new label applicator that can be configured to fit just about any packaging line.
Our new label applicator Alpha HSM is a high-performance and universally adaptable applicator system in a new design, with even better efficiency, higher cycle rates and even simpler operation than its tried and tested predecessor the Alpha Compact. The modular concept design adapts flexibly to confined production spaces and easy to install into existing packaging lines and systems.
The modular Labelling System consists of a drive module, a label detection module, a dispensing module, an unwinder module, a rewinder module and an adapter module. These can be assembled according to a customers specification using our configurator to create the perfect label applicator for their product line. More than 70 different configurations are available for a multitude of labelling applications. This makes the Alpha HSM the most versatile solution in our labelling systems portfolio
With the packaging industry asking for higher labeling speeds and more flexibility,  the Alpha HSM high speed labelling systems can be configured in a variety of models that can handle multiple speeds and label sizes. 
Weber engineered the modular Alpha HSM so that it can be ordered in ten different sizes to fit just about any labeling application. Available in right- or left-hand versions, the Alpha HSM can be built with 135, 200, 250 and 320 mm label widths.
IP65
The Alpha HSM is IP65 certified and is constructed of durable aluminum with high rigidity for all working label widths, including wash down areas.
Interfacing
All the systems feature multiple interfaces allowing connections for HMI display, product detector, rotary encoder, I/O signal, Ethernet network, and an aux in and aux out for sensor attachment. Three different user interfaces are available including OLED display, external PLC module or a web-based browser control.
Modular Options
The standard mechanical label unwinder and rewinder can be upgraded to a motorized servo-controlled system for higher labeling throughput speeds. Label application modules for the HSM include a fixed peeler plate, a swiveling peeler plate, a pneumatic peeler plate, and adjustable peeler plate or a pneumatic applicator. Label sensors can handle standard and transparent labels.
Summary Features
The Alpha HSM can apply any type of adhesive label to virtually any type of product or package.
Currently in use in a number of industries, including pharmaceutical, cosmetics, logistics, food and beverages, including automotive and chemical.
System can be mounted in a number of orientations and configurations.
Easy to integrate into any packaging line or System Solution
Adobe Reader is required to open and view PDF files. This can be downloaded free from adobe.com.
Available Documents
You must be logged in to access these documents.
Register for an account
.
---

Portable, Handy, Smart. The TH2 direct thermal 2″ standalone printer is truly revolutionary.

View Product

---

Redefine productivity and reliability with the MC3200 mobile computer, the next generation in the class-leading MC3000 Series, now with more options to meet your needs. Choose the right operating system for your business – Android Jelly Bean or Microsoft Embedded Compact 7. Your choice of our most advanced 1-D laser or 1-D/2-D imager scan engine allows your workers to easily capture barcodes in any condition.

View Product

---

Achieve a new level of productivity and throughput at the checkout stand with the DS9808 from Zebra. This groundbreaking scanner is designed from the inside out to bring a new level of versatility, functionality and performance to the checkout stand. Outside, the DS9808 offers an extraordinary one-of-a-kind hybrid form factor that marries a solid base with our advanced handheld ergonomics. The integrated base requires very little real estate at the point of sale — ideal for space constrained checkout stands. And inside, the DS9808 offers the very latest in scanning technology, delivering record swipe speeds for 1D and 2D bar codes, as well as the ability to capture images and signatures.

View Product

---