Weber LA 6000 Labelling System
High Performance Labelling System for Warehouse & Logistics
Modularity, High Performance necessary for Warehouse and Logistics System Solutions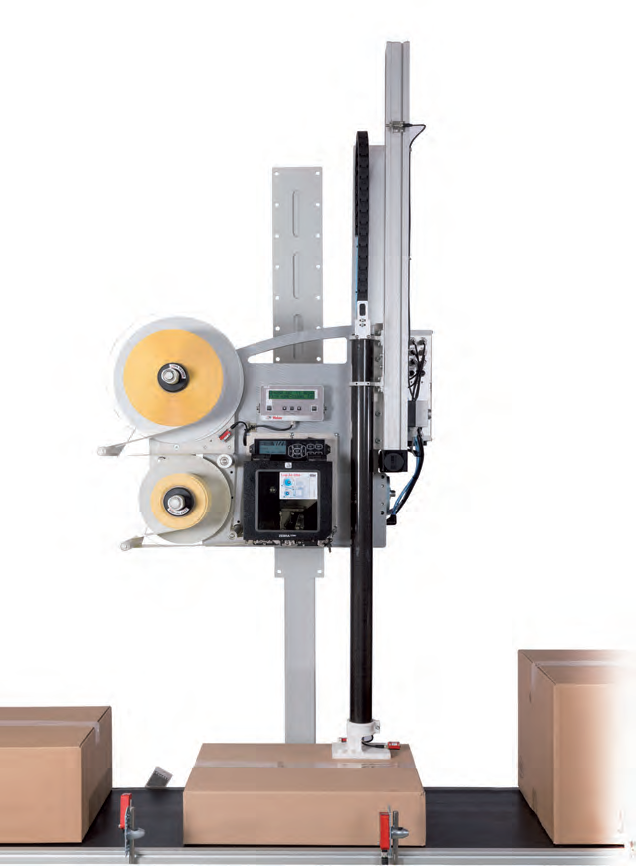 Weber LA6000 Print Apply Labelling System
Product traceability, quality assurance, tracking and tracing in logistics or individual identification of products for just-in- time production – these are just some of the current industry demands that are catered for with this system. Businesses that ship their goods directly to consumers depend on fast yet accurate labelling systems. Our new LA6000 systems are  designed for this sector to apply labels with millimetre precision. Interchangeable dispensing heads allow the use of different label sizes. Print engines by leading global manufacturers such as Zebra, Datamax, and CAB etc allows an optimal match to the application and its specific printing requirements. Reaching 400 products per hour, the Weber LA 6000 high performance printing and application system will label passing cartons of varying height quickly and efficiently.
Differences in product height of up to 500 mm can be achieved thanks to the high performance stroke unit. these peak performances are achieved using a servo motor driven dispensing applicator and carbon fibre construction.
Once the sensor has initially determined the height of the approaching product for labelling, the applicator will move to the correct position at high speed. this reduces the travelling distance for labelling and the LA 6000 will simultaneously label more accurately and up to 50 percent faster than a printing dispenser with a pneumatically driven cylinder.
The new redesigned microprocessor controller is optimal in terms of both cost and space. This makes the system highly compact and facilitates easy integration into existing operating environments. The LA 6000 will handle large label rolls with an ergonomically adjustable reel holder taking maximum roll size of up to 600 metres in length. This results in higher efficiency production runs and less downtime for Label Reel Change.
The intelligent construction allows easy access to system components for servicing and or maintenance, enabling convenient changing of labels and foils as well as particularly easy cleaning of the print module's thermal print head, as needed.
On Print and Apply Systems it is often the print module which determines the working rate. This is not the case with the new Legi-Air 4050 AC Shuttle. A loop device ensures a ready supply of labels which are custom-printed before being dispensed at unusually high speeds onto the passing products. The capacity of […]

View Product

---

Fulfilling EU Guidelines

According to an EU regulation all new tyres produced in or after January 2012 and placed on the market within the EU must bear a standardized EU label, such as those already seen on washing machines and refrigerators. The new label must contain precise details with seven grades (A-G) of fuel efficiency, wet grip and exterior noise when in motion (in dB), respectively.

View Product

---

Auto-switching Universal Power
Supply for immediate adaptability anywhere in the world
Compatible with all Direct Thermal and Thermal Transfer printers
Electronic Speed Control will automatically synchronise winding speed to the speed of your printer
Provides passive winding without skewing print or barcodes on your labels
Rewind from 2.5cm to 25cm per second
Easily handles labels from 2.5cm to 10cm wide
Wind labels face in or face out

View Product

---

The NEW MBA01 is a manual applicator ideal for short and low volume applications and has been developed to apply labels to a wide range of cylindrical containers including Bottles, Jars, Cans, Tubs and Tubes.

View Product

---