Weber LA4050B-EL – All Electric Linear Print Apply System
Weber's LA4050B Series Electric Labelling Print and Apply automated labeling systems feature industry-leading smart technology that use sensors to reduce label application complications, ensuring a one-to-one label-product match. As the leading all-electric Label Printer/Applicator manufacturer on the market, our pressure sensitive labeling systems enable customers to completely replace conventional pneumatic systems with semi-electric and or a fully electric option that controls the label with pinpoint accuracy in side, top, bottom and corner-wrap applications throughout the packaging process.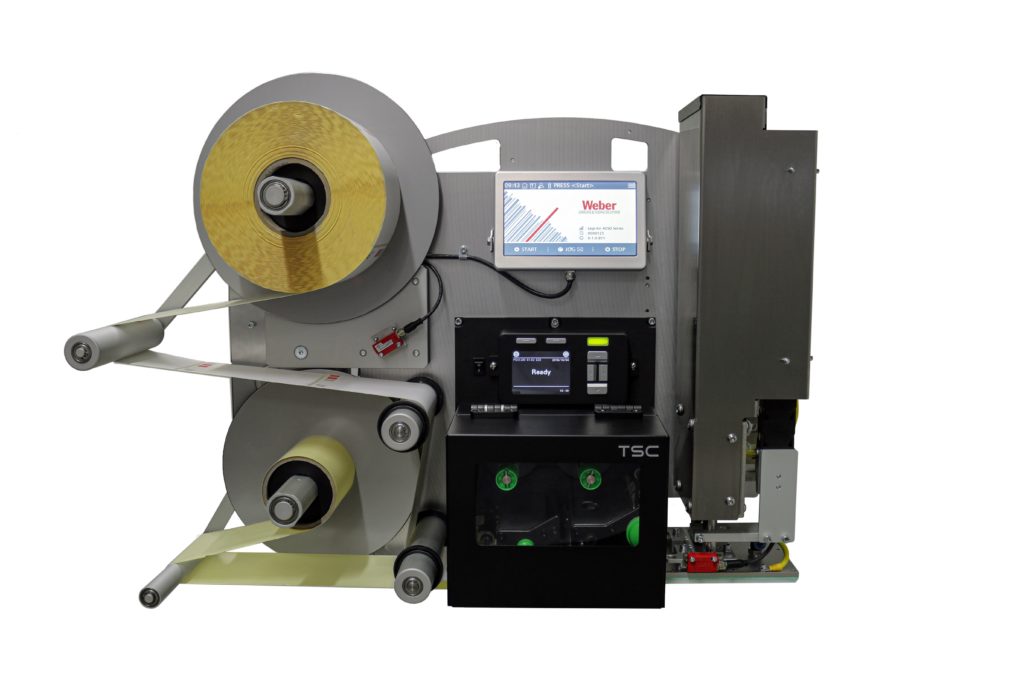 The Weber LA4050B EL (Electric Linear) is an efficient Printing and Label Application System providing up to a 25% increase in efficiency when compared to some traditional pneumatic Tamp Blow Labelling Systems. The Electric Linear Stroke System is capable of Printing and Application throughput in excess of 80 labels per minute (dependant on label size) with higher accuracy in terms of label placement and Liner Stroke positioning. The LA4050B EL is capable of applying labels to side, top or bottom of products. The Light weight design of the Stroke Unit allows for the a fast Tamp and Return Cycle. This allows for optimal label transfer time, without adding damaging force to the product. The system is designed for use with a variety of Print Engines such as Sato, Zebra, Datamax etc. from 203dpi to 600dpi Printing Resolutions. Typically used for Top and Side Case Labelling the Weber LA4050B EB can be used in a variety of Industries from Logistics and Warehousing to Food and Beverage. The System can also be used in conjunction with a Wipe Down Station for Corner Wrap Applications.
Like all Weber Labelling Systems the unit is modular in design with easy to remove unwinder, rewinder, and Print Engine in the event of a critical component failure. This provides significant benefits for 24/7 operation where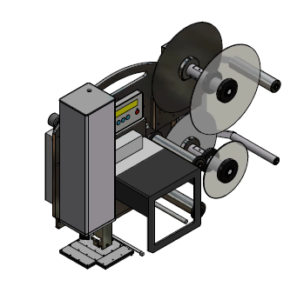 downtime is a cost critical factor. The choice of Print Engines add to the versatility of the System and provides label size ranges from 10mm x 5mm up to 180mm x 800 mm at a speed of up to 80 labels per minute (dependant on label size). The system has the same interface options (Alarm System, Error Control, Volt Free Output,  M12 connection for Sensors etc.) as some of our other high end systems but with a low base cost. The all new Weber controller can manage the functions of the Labelling System with ease and simple to use touchscreen GUI. 
The system has a pivoting U-Arm which allows rotation of the system by 360 degrees allowing the Labelling System to Print and Apply a label to any side of a product including Base Labelling of Products. The system can be mounted on its own individual stand, integrated directly into a packaging machine as part of an automated packaging line or mounted directly on one of our many handling systems providing a turn key solution to your particular Labelling requirements.
Other Benefits include:
Low Total Cost of Ownership
High accuracy Labelling
Versatility and Flexibility in Labelling Configuration
Easily adaptable to changes in Production
Low Running Costs
RFID Upgradeable
High Throughput 24 / 7 Operation
Available in 4″ wide and 6″ Wide Print Widths
UK Service and Support Network
Additional Options include:
Low label Warning System
Protective Enclosure for Harsh Environments
Barcode Scanning Module
RFID Print Engine
Vision System 
Choice of Product Detection Sensors
Bespoke Handling Systems available
The Markoprint X1JET Stitch is a self-contained inkjet printing system that uses tried-and-true HP Class printing technology. Its space-saving electronics are hidden behind the cartridge, allowing it to be installed in confined areas. This entry system is especially useful for printing many 12.5 mm print pictures at the same time, which is typical in multi-lane deep-drawn packaging plants.  To print a larger print image (up to 100 mm) , up to 8 X1JET Stitch printheads can be cascaded . The patented Click'n'Print cartridge holder makes replacing cartridges a breeze at any time. The SmartCard function of the system detects the ink cartridge and automatically sets all parameters.

View Product

---

FEATURES

Semiconductor / Electronics
Dual LAN System
Fastest in the Market
Large LCD Display
Easy to Navigate Menu
User Configurable Print Head
RFID Ready and Upgradeable
No PC Required
Tri-Interface Port
Built to Last

View Product

---

The Dispensa-Matic U-60 is ideal for dispensing pressure-sensitive labels from 0.375″ up to 6.0″ wide. Labels are peeled from their liner and presented to the user for easy grab and go labelling.

This semi-automatic electric label dispensing system is built to last using high-quality metal parts for years of service with little downtime. The U-60 is made in the USA and comes with a 3-year warranty.

View Product

---

Versatile, Four- and Six-Inch-Wide – OEM Print Engines PAX 4™ print engines deliver superior performance and reliability. The 110PAX4 and 170PAX4 print engines are the performance leaders in mission-critical print-and-apply applications. With enhanced connectivity, including wireless and Ethernet, along with all-metal construction

View Product

---