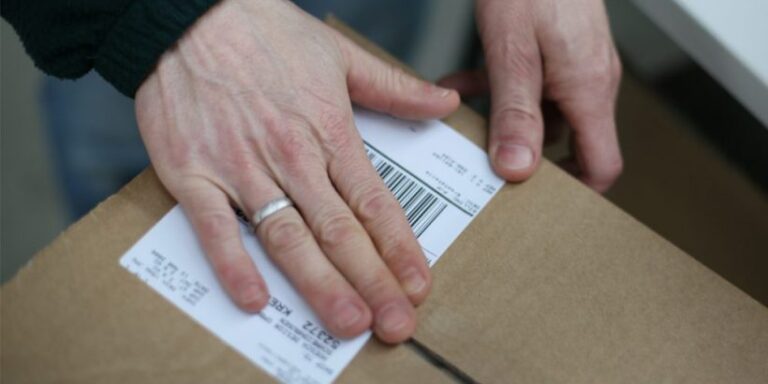 Clever labeling, faster delivery!
Labeling and coding in the dispatch line has a considerable influence on the efficiency of logistics processes. It can help you save operating costs, reduce returns and improve customer service. If you label your shipping goods correctly, you can deliver faster and more reliably. As a result, your business remains competitive. This blog article gives you a few tips on how to do it.
E-Commerce is the future
According to recent studies, the e-commerce market will expand by 2030 five times faster than the retail market. E-commerce is booming and further growth is expected. As a result, both retailers and start-ups are relying more and more on the Internet to do business. An automated dispatch line has many advantages and can be implemented with relatively low effort. However, the automation of individual processes such as labeling can also be useful.
Preparing packages for dispatch more quickly
The transformation from being a shop owner or manufacturer to a shop operator faces several challenges. Apart from the appropriate platform, a functioning e-commerce logistics system is necessary to create positive customer experiences. Online customers are finally used to receiving ordered goods within a few days. It is forecasted that by 2025 the market for same-day delivery and instant delivery will account for around 20 percent of sales of standard parcels.
To make such services possible in cooperation with parcel services and other logistics service providers, a robust barcoding system is required. Barcodes encrypt information in a very small space and can be automatically captured by scanners or cameras. In this way, they help to clearly identify the goods to be shipped in the warehouse and along the rest of the supply chain and assign them to the correct order. Thus, the dispatched goods can be processed quickly and without errors.
Automatic Labelling increases Logistics Efficiency
Both internal and external logistics are require identification labels. The most important logistics labels include the following:
Dispatch labels / address labels
Dispatch labels contain all relevant information about the dispatcher, recipient and the details of the dispatched goods. They are required by the delivery service provider (DHL, Hermes, DPD etc.) to deliver the parcel. They usually also specify precise requirements for the dispatch labels to ensure error-free legibility along the entire supply chain. Otherwise, delivery delays and increased costs can occur.
Identifier labels
Identifier labels are predominantly a unique barcode or sequential barcode that identifies the package or product. They are often referred to as License Plate Labels and once scanned it provides the detail on the customer, and location to be shipped to from a Warehouse Management System. Based on this barcode label, goods can be automatically channelled to certain sorting locations and select the appropriate logistics provider for this location.
Warehouse labels
In conjunction with an inventory management system, warehouse labels help to manage inventory and make it easier to find goods in the warehouse quickly. They contain the article number, quantity information or best before dates of the stored goods. The label material should be adapted to the surface of the stored goods and to the conditions of the storage environment (e.g. cold, heat, humidity) to ensure good adhesion.
How to print and apply labels for shipping and more
The layout and content on barcode labels are created with the help of labelling software which can link with a Warehouse Management System. The label may contain text, numbers, barcodes and graphics. Variable label data can be loaded from a connected database (company software or Excel spreadsheet).
The label printer can be a stand-alone printer that allows you to print labels as needed and then remove and apply them manually. Which model you choose depends on the print volume, among other things. As an official trade partner for popular manufacturers such as Zebra, Sato and Epson, Weber Packaging Solutions can provide you with the optimal solution.
Higher parcel volumes require increased throughput via an automatic print-apply labeling system: It combines label printer and label dispenser in one device and applies the label automatically to the packaging. There is a suitable labeling solution for every requirement and packaging type. An ideal entry-level model is Weber LA 2050 print and apply labeller which can apply up to 30 labels per minute to different boxes. Companies with a higher throughput can choose a more powerful labeling system such as Weber LA 6000, which applies labels to up to 2,250 products per hour.
If necessary, barcodes can also be printed using an inkjet printer. This is an increasingly popular method of coding packages as it removes the need for self adhesive labels on the packaging reducing waste.
Marking of dangerous goods
Certain goods are classified as "dangerous goods". These are substances and objects which may pose risks to the environment during transport. This applies, for example, to batteries, paints, fireworks and gas lighters. The CLP Regulation lays down how dangerous substances and mixtures are to be marked. In some cases, the packages must be marked with defined symbols and safety instructions.
For the marking of dangerous goods on cardboard boxes, labels are often used. However, a cost-effective alternative can also be the large font inkjet printers: it enables fast, two-colour marking at a print height of up to 108 mm and is also low-maintenance. The method is not only more cost-effective, but also more sustainable, because no liner waste is produced. The ink cartridges are recyclable and only need to be replaced after several thousand codes.  This could save up to 60% in total costs under certain circumstances.
Should you start with label automation?
Considering the rapid development in E-Commerce world, companies and online stores should review their business continuity processes and their existing warehouse management systems. If addressing, labeling, weighing and checking still happen manually, they are often slow, error-prone and labour intensive. This leads to incorrect deliveries, increased returns and higher costs.
Labelling Automation on the other hand, is more efficient. Orders can be processed faster and more reliably. With the advent of new shipping and logistics software applications a label can be sent directly to the labeling system which prints the appropriate dispatch information on the label and applies it to the correct product automatically. Incorrect labeling and the associated returns can thus be ruled out. This in turn contributes to higher customer satisfaction.
Looking for the perfect labeling or printing solution?
Weber Packaging Solutions is your partner for demanding labeling applications in all industries. We are happy to help you succeed! Ask us for more information and expert consultation at sales@weber.co.uk