Weber LA4050B-ES – All Electric Swing Arm System
Weber's LA4050B Series Electric Labelling Print and Apply automated labeling systems feature industry-leading smart technology that use sensors to reduce label application complications, ensuring a one-to-one label-product match. As the leading all-electric Label Printer/Applicator manufacturer on the market, our pressure sensitive labeling systems enable customers to completely replace conventional pneumatic systems with semi-electric and or a fully electric option that controls the label with pinpoint accuracy in side, top, bottom and corner-wrap applications throughout the packaging process.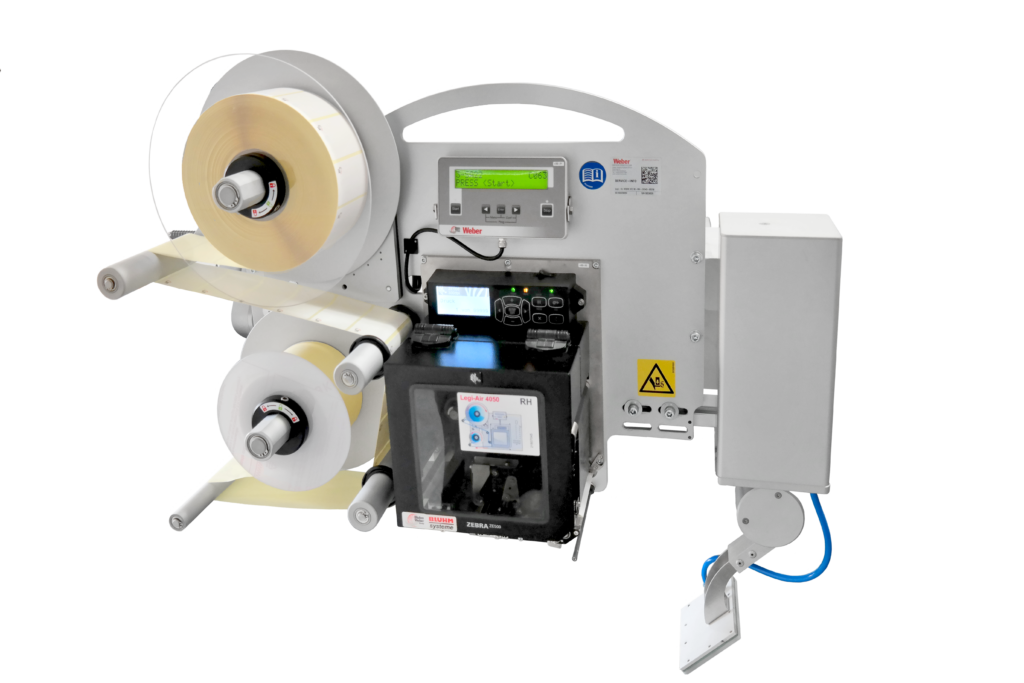 The Weber LA4050B ES (Electric Swing Arm) is based on the Weber LA4050B Electric Linear Tamp Blow Labelling System but using the Electric Swing Arm Apply Applicator . The Electric Swing Arm System is capable of Printing and Application throughput in excess of 60 labels per minute (dependant on label size) with higher accuracy in terms of label placement than traditional Swing Arm Pneumatic Labelling Systems. The LA4050B ES is capable of handling front and side apply and side and rear apply label applications. The ES version can also wrap longer labels around front and side surfaces. The Light weight design of the Actuator increases the speed of the Label Application. Like the Linear Stroke System it is designed for use with a variety of Print Engines such as Sato, Zebra, Datamax etc. from 203dpi to 600dpi Printing Resolutions. The Weber LA4050B ES can be used in a variety of Industries from Logistics and Warehousing including Food where corner wrap or dual sided labelling / identification is required.
Like all Weber Labelling Systems the unit is modular in design with easy to remove unwinder, rewinder, and Print Engine in the event of a critical component failure. This provides significant benefits for 24/7 operation where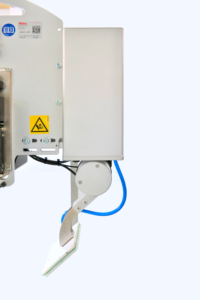 downtime is a cost critical factor. The choice of Print Engines add to the versatility of the System and provides label size ranges from 10mm x 5mm up to 180mm x 800 mm at a speed of up to 60 labels per minute (dependant on label size). The system has the same interface options (Alarm System, Error Control, Volt Free Output,  M12 connection for Sensors etc.) as some of our other high end systems but with a low base cost. The all new Weber controller can manage the functions of the Labelling System with ease and simple to use touchscreen GUI. 
The system has a pivoting U-Arm which allows rotation of the system by 360 degrees allowing the Labelling System to Print and Apply a label to any side of a product including Base Labelling of Products. The system can be mounted on its own individual stand, integrated directly into a packaging machine as part of an automated packaging line or mounted directly on one of our many handling systems providing a turn key solution to your particular Labelling requirements.
Other Benefits include:
Low Total Cost of Ownership
High accuracy Labelling
Single or Dual Sided Labelling 
Easily adaptable to changes in Production
Low Running Costs (low air consumption)
RFID Upgradeable
High Throughput 24 / 7 Operation
Available in 4″ wide and 6″ Wide Print Widths
UK Service and Support Network
Additional Options include:
Low label Warning System
Protective Enclosure for Harsh Environments
Barcode Scanning Module
RFID Print Engine Option available
Vision System 
Choice of Product Detection Sensors
Bespoke Handling Systems available
The Geset 111 labelling system is used to label square products on the top side automatically. Depending on the type and dimension of the product, different label sizes are used. The products are fed manually or by a conveying system provided by the customer at an infeed passage on the labelling system. Care should be taken on accurate alignment of the products. It is essential that the products are forwarded separately to the applicator with a gap between each other.

When the barrier is reached, an application trigger is tripped. The label applicator applies a label on the product in Wipe On procedure. The label on the top side is pushed on to the product by a brush or roller. After labelling, the products move on and can be removed from the conveyor by the customer.

View Product

---

Easy to Deploy, High-Performance, "Can't Miss" On-Counter Scanning

When it comes to on-counter scanning, the DS7708 scanner offers a feature set that puts it at the top of its class for performance, ease of use, easy deployment and total cost of ownership. With a large field of view that is over 50 percent larger than the competition, the DS7708 easily captures bar codes regardless of where they are located on an item. No matter what type of bar codes appear at the POS, the DS7708 can scan them all: 1D, 2D, printed and electronic.

View Product

---

The particularly compact and cost-effective X2JET Plus System is ideal for the foodstuffs, chemicals, building materials, and pharmaceutical industries. This innovative system marks absorbent and semi-absorbent surfaces – fast, accurately and reliably. The touchscreen interface and animated graphics makes it user-friendly and easy-to-use. Using a USB stick, data transfer is simple and reliable.

View Product

---

Summary

From the patient's hospital bedside straight to the kitchens with EasyGo! BedSideOrder! Use this quick and easy application to help your nursing staff take meal orders from the patient's bedside and send them straight to the hospital's kitchens in just a few simple clicks. Safeguards can be applied to help the nurses avoid meal options that could be harmful for the patient, and comments can be added to individual orders.

View Product

---