Weber LA4050B-EB – All Electric Belt Applicator System
Weber's LA4050B Series Electric Labelling Print and Apply automated labeling systems feature industry-leading smart technology that use sensors to reduce label application complications, ensuring a one-to-one label-product match. As the leading all-electric Label Printer/Applicator manufacturer on the market, our pressure sensitive labeling systems enable customers to completely replace conventional pneumatic systems with semi-electric and or a fully electric option that controls the label with pinpoint accuracy in side, top, bottom and corner-wrap applications throughout the packaging process.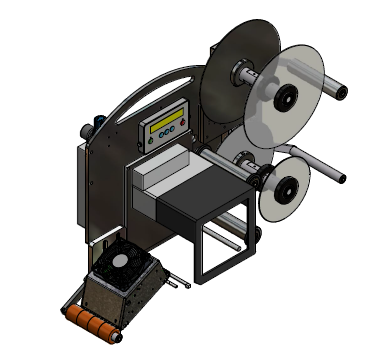 The Weber LA4050B EB (Electric Belt) Provides a cost effective and efficient means of Printing and Label Application in one Sequence providing up to a 35% increase in throughput when compared to some traditional pneumatic Tamp Blow Labelling Systems. The Electric Belt Dispensing System is the workhorse of the LA4050B Labelling Systems, capable of Printing and Application throughput up to 250 labels per minute (dependant on label size). The LA4050B EB is capable of applying labels to side, top or bottom of products. It is also able to provide wraparound label solutions in conjunction with a secondary wipe down station to achieve higher throughputs than conventional wrap systems.The system is designed for use with a variety of Print Engines such as Sato, Zebra, Datamax etc. in 203dpi and 300dpi Printing Resolutions. Typically used for Top and Side Case Labelling the Weber LA4050B EB can be used in a variety of Industries from Logistics and Warehousing to Food and Beverage.
It is primarily designed with simplicity in mind and provides a robust reliable means of Labelling without the need for air supply like other systems currently on the market. Like all Weber Labelling Systems the unit is modular in design with easy to remove unwinder, rewinder, and Print Engine in the event of a critical component failure. This provides significant benefits for 24/7 operation where downtime is a cost critical factor. The choice of Print Engines add to the versatility of the System and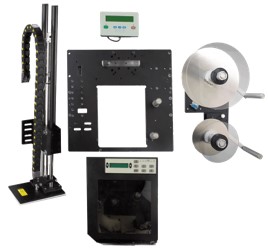 provides label size ranges from 10mm x 5mm up to 180mm x 800 mm at a speed of up to 250 labels per minute (dependant on label size). The system has the same interface options (Alarm System, Error Control, Volt Free Output,  M12 connection for Sensors etc.) as some of our other high end systems but with a low base cost. The basic controller can manage the functions of the Labelling System with ease and simple to use menus. 
The system has a pivoting U-Arm which allows rotation of the system by 360 degrees allowing the Labelling System to Print and Apply a label to any side of a product including Base Labelling of Products. The system can be mounted on its own individual stand, integrated directly into a packaging machine as part of an automated packaging line or mounted directly on one of our many handling systems providing a turn key solution to your particular Labelling requirements.
Other Benefits include:
Low Total Cost of Ownership
High accuracy Labelling
Versatility and Flexibility in Labelling Configuration
Easily adaptable to changes in Production
Low Running Costs (no compressed air required)
RFID Upgradeable
High Throughput 24 / 7 Operation
Available in 4″ wide and 6″ Wide Print Widths
Additional Options include:
Low label Warning System
Protective Enclosure for Harsh Environments
Barcode Scanning Module
RFID Print Engine
Vision System 
Choice of Product Detection Sensors
Bespoke Handling Systems available
The ZT230 features the durability of a metal frame and cover with an icon based LCD graphical user interface and larger ribbon capacity for long lasting use in demanding environments.

View Product

---

Retail Mobile Solutions Whether you are looking for an online, fully  integrated solution or a simple office solution, Weber makes moving to a modern mobile  logistic and sales-assistant solution easy. The retail software solution gives your stores new and  more efficient ways handle logistics and  support your customers shopping. Retail Mobile Logistics Solutions Inventrory […]

View Product

---

The Gryphon™ 4000 series represents the premium level of data collection devices from Datalogic ADC for general purpose applications. Designed with people in mind, the Gryphon™ I GD4400 imager blends advanced 2D reading with motion sensing technology, producing a user-friendly device with outstanding performance.

View Product

---

Zebra GX430 Desktop Printer

The best-in-class enhanced GX430t thermal transfer printer offers the widest range of features, 4 inches per second print speed and 300 dpi resolution to meet all your low- to medium-volume printing requirements.

View Product

---