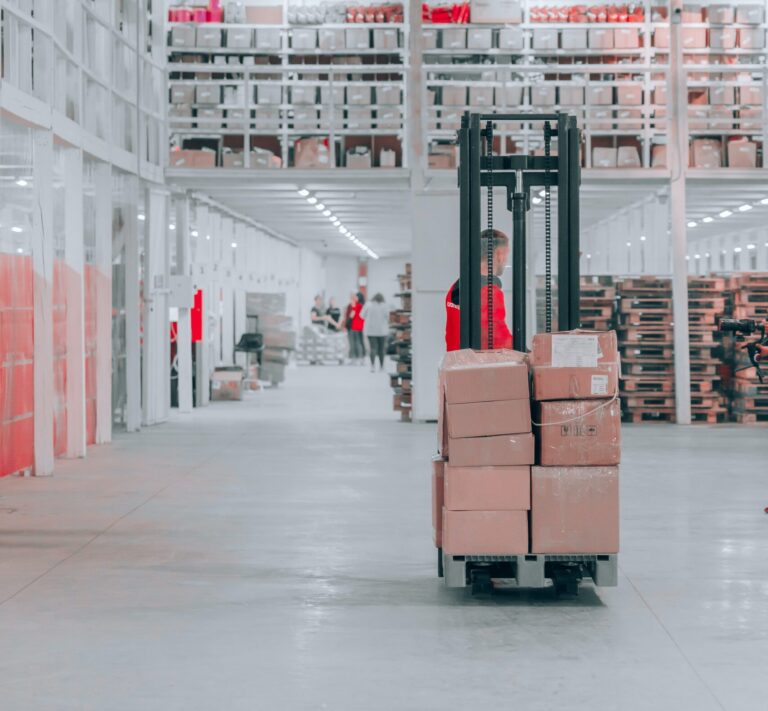 Every day, more and more people shop online. Businesses must ship online purchases quickly to meet customer demands. As a result, companies have to adapt their warehouse management system to LPN track & trace. At the same time, sellers want accurate and fast delivery.
This shift to online shopping represents an increase in the need for real-time storage management and a decrease in the margin of error and delay in the order and shipment processes. You can speed up the process and obtain information on your stock in real time, with an internal LPN track & trace system. This allows you to provide the desired service to your customers.
What is an Internal LPN track & trace system?
An internal LPN Track & Trace system can be used for a host of different processes. Moreover, you can get real-time information about your stock, merchandise positioning and order status when you link different processes together.
How Does Labelling with a License Plate Number (LPN) Work?
Operatives label the packaging from the product such as a box, a floating pack, or a plastic bag with an LPN label. An LPN label has a unique number that belongs to a single pallet or box. Operatives link the LPN to information relevant to the shipment of the package, such as lotus numbers or important dates.
As part of the warehouse management system, a warehouse operative can find out exactly where they need to go by scanning the LPN tag. Operatives number the LPN label and stick them around the corners of packaging. LPN label are double-sided making them easily manageable. Consequentially, operatives can also apply the shipping labels on all 4 sides of pallets.
How Does The LPN Track & Trace System Work In Practice?
Users can integrate LPN labels into an inventory management system. Workers apply LPN labels to pallets, crates and external boxes. This allows users to identify products on arrival and track them until they leave the warehouse. Operatives can also apply LPN labels to boxes during order processing or shipping. This makes order picking easier and the shipping line automatically knows which shipping label to attach.
LPN in the Management of Storage and Warehousing
The LPN label is a crucial part of a distribution center's warehouse management system, as a high volume of boxes and pallets enter and leave every day. A Track & Trace LPN system improves the speed of goods processing by offering real-time information on storage.
In large distribution centers, workers identify packages due for shipping using the LPN label. The LPN label contains all the necessary details about the package and activates the logistics system to trace the correct information from the warehouse management system. The labelling system then automatically prints a second shipping label with the shipping information and applies it to the package, which can finally leave the warehouse.
LPN Labelling Increases Speed
The high speed of order processing requires labeling systems that are capable of applying labels to boxes at great speeds. The Alpha HSM Label Applicator can apply pre-printed LPN labels at speeds of up to 2000 labels per hour. Weber Marking Systems has developed the LA6000 High-Speed Print & Apply System, for packages with variable height. The specifically-designed, LA6000 applies pre-printed shipping labels or LPN labels on products at differing heights.
LPN Streamlines the Ordering & Shipping Process
It is wise to optimize the processing and their shipping process through an LPN track & trace system when there are so many orders to process. This ensures that empty boxes tagged with an LPN label are assigned to an order and that order can be handled much more easily, and can be taken out of stock and shipped automatically.
Kleertjes.com is a clothing site for children and babies. They use an internal track & trace system via LPN to increase the speed of order shipment. Operatives apply an LPN label to the outer packaging which is linked to an order. The box continues its way up to order detection, both manually and automatically.
Operatives package boxes to continue down the shipping line. The LPN label communicates with the WMS system and tells you where to send the box. It prints a shipping label and automatically applies it.
The Alpha Compact Label Applicator is used to apply a pre-printed License Plate Number on the box while the system prints and applies the LA4050E prints the shipping label based on the LPN number and applies it automatically.
Why you should choose an LPN track & trace system?
Get real-time storage information
Optimize order processing in the warehouse
Reduce errors
LPN track & trace systems contribute to increased productivity and reduce costs, so what are you waiting for? Check which LPN label best suits your company's needs on our website and let Weber advise you! We are happy to offer you any advice you need for free.