Legi-Air 4050 M Label printer and dispenser
Weber Packaging Solutions presents the Legi-Air 4050 M – a printing dispenser with a novel control concept. The "M" correspondingly stands for master controller: "The central hub for data and process control".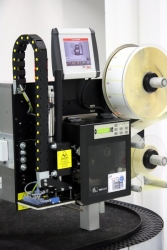 Master controller controls printing and dispensing
In one movement, the Legi-Air 4050 M automatically prints current data and dispenses labels. The compact system design simplifies mechanical integration into existing equipment. There are numerous standard applicators for applying the labels to products, packaging or trays, for example.
RFID labelling is already prepared in the system. In addition, several modes of operation are available for high-speed labelling, such as contactless application, e.g. "Blow-on" and "Tamp-blow". Any labelling and installation positions are possible, making it easier to realise numerous individual solutions using this standard device.
At the core of the CT4i printers is a new generation ultra high speed processor.

View Product

---

Based on a modular construction the Weber 4050E is capable of numerous methods to print and apply a label. The design comprises a feeder module, a printing module, label winder and unwinder with numerous applicator types. The standard Tamp-Blow system has a quick-change system for changing the tamp pad which significantly reduces the changeover time to other label formats.

View Product

---

Geset 700 – individual, customised labelling machine

View Product

---

RWG500 – Label Rewinder
This Label Rewinder is ideal for batch printing applications and accommodates label rolls up to 5″ wide (optional 7″ extension available) with roll O.D. of up to 8″. It can be self-powered with an optional external power module.

View Product

---