Epson SecurColour TM-C3400 Inkjet Colour Label Printer
The SecurColour prints colour-enhanced labels and tags on demand to improve inventory organization, lowering the cost of inventory management and improving customer service.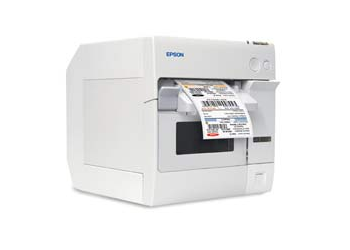 Compact, robust design for commercial use
•High-quality colour inkjet printing
• Single three-colour ink cartridge for simple inventory
• Supports a variety of media types and sizes
• Easily adjustable to handle 1.2″ to 4.4″ widths
• Rear-feed capability for fanfold and large rolls
• Selectable print resolution at 360 x 180 dpi, 360 x 360 dpi or 720 x 360 dpi
• Fast print speeds of up to 94mm (3.7″) per second (56mm print width) in high-speed mode
• USB or Ethernet interfaces
• Works great for in-house on-demand UDI or GHS labelling
Colour coding improves inventory management
Small manufacturers, specialty retailers and other low-volume/high mix businesses can easily misplace inventory on warehouse shelves or in bins. Now with SecurColour you can produce colour-enhanced labels to mark inventory by product type or model, and sensitive goods can be colour-coded based on date received or expiration date. SecurColour also lets you print vibrant shelf talkers, shelf tags, pricing labels and small signs up to four inches wide at any time.
Colour labels speed service
If your business requires retrieving inventory to fill orders for waiting customers, colour labels can help your staff find the right item in the stockroom fast. SecurColour labels can also include full-colour product images for rapid visual identification. And with colour-coded shelf tags and product images on cartons, employees can quickly find stock items correctly. The result is faster, more accurate warehouse transactions and improved customer service.
Superior ink and image quality
Instead of pre-printing and storing thousands of labels, with SecurColour you can just print the labels and signs you need. And unlike laser printers which use up a full sheet for printing only a few labels, SecurColour minimizes waste, allowing you to print one or many labels at a time. SecurColour also provides colour-fast, waterproof printing without messy thermal transfer ribbons. You can print on a wide range of Epson-qualified media from plain and synthetic paper stock to die-cut and fanfold labels.
Epson quality and reliability
Designed for high-duty commercial environments, the SecurColour inkjet printer delivers the quality and reliability that Epson is known for. It comes with ease-of-use features including auto cutter, gap and black mark sensors and paper-end sensors for roll stock. And Epson's patented MicroPiezo® inkjet technology ensures crisp, clear, easy-to-read graphics, bar codes and text.
RUGGED, POWERFUL AND FULL-FEATURED

The Nautiz eTicket Pro is a versatile PDA designed for payment transactions and validations.

With its category-leading combination of performance features in a small but rugged package the Nautiz eTicket Pro is the perfect handheld for fare collection in public transport. The Nautiz eTicket Pro is designed to provide everything you need for optimum in-the-field computing performance – this handheld offers a total package of unmatched capabilities in a rugged format.

View Product

---

---

The label applicator LA 5200 RFID is a true all-rounder, providing an all-in-one solution. The "Print, Code & Apply Flag Tag" process involves the automatic writing, printing and application of tags.

View Product

---

Summary

Goods Receipt is the first module of a global application suite called Inventory Management Suite which includes the following four modules: Goods Receipt, Inter-stocks Transfer, Picking List and Goods Movements. Goods Receipt allows you to verify in the warehouse that the delivery is in compliance with the delivery list or with the original order.

View Product

---