Datalogic MATRIX-2000 Compact 2D Imager
Matrix-2000™ is a fully integrated area reader that combines a LED lighting system, image capturing, decoding and communication interfaces in a single compact product. Rugged construction and ESD Safe versions make this reader suitable for any industrial application
in all the main industries.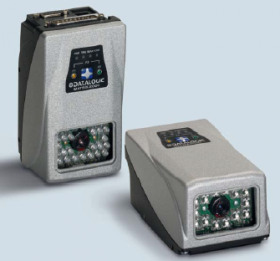 EXCELLENT PERFORMANCE
Powerful proprietary decoding libraries provide the Matrix with excellent performance on printed or DPM (Direct Part Marked) symbols even when damaged or of low quality. High dynamic reading performance allows the Matrix to acquire images up to 60 frames/s. Higher frame rates can be achieved using the powerful Region Of Interest Windowing, satisfying applications with object speeds up to 6.0 m/s.
EASE OF USE
The Auto-learning function automatically sets photometry and decoding parameters making installation faster and easier (only 4 steps!), even for non-expert users. In order to avoid new reconfiguration, Run Time Self-Tuning (RTST) increases the Matrix's readiness by automatically setting the reader in run time.
SYMBOL VERIFICATION
Matrix-2000™ can verify code quality by monitoring how well the printing / marking system is performing. It is compliant with AS9132A and supports ISO/IEC standards for Data Matrix and linear codes.
FLEXIBILITY & VERSATILITY
Matrix-2000™ is ready for use in various applications, offering VGA and SXGA sensors and many optical solutions guaranteeing accuracy in identifying codes with different resolutions at various distances with the best reading performance in its class. Moreover, a complete set of accessories is available: lighting systems, connection boxes, mounting, accessories and brackets.
APPLICATIONS:
• Automotive industry
• Work-in-Progress Traceability
• DPM Reading and Verification
• Tire Sorting
• Electronic Industry
• PCB Handling Systems
• Semi-conductor Assembly
• Medical & Pharmaceutical
• Medical ID Devices
• Pharmaceutical Manufacturing
• Chemical & Biomedical Analysis
• Postal & Distribution Industries
• Document and Mail Processing
• Small Parcel Sorting
• CD/DVD Identification
• Food & Beverage Industry
• Work-in-Progress Traceability
• Reverse Vending Machine
Fast, reliable, economical solutions to product labelling: Geset 100, 300 and 700 labelling machines are part of a modular system. Up to 50 modules are available for design solutions to customer demands. The Geset 100 is a labelling machine for small production series, designed to produce small volumes as accurately and flexibly as would a large plant. Its robust construction renders it ideal both for intermittent use of only a few minutes per day and for multiple shift operation.

View Product

---

Suitable for difficult environmental conditions and locations with high hygienic standards, as in the food, pharmaceutical and chemical industry. With mounting brackets for desktop or wall-mount installation.Integrated power supply unit, sealed cable glands for all cable connections.

View Product

---

The Legi-Air 4050P for continuous pallet labelling.

The system offers numerous advantages with respect to speed, reliability, scope of application, size and serviceability.

View Product

---

HIGH PERFORMANCE CARD PRINTERS

Using the latest in Zebra card-printing technology, the ZXP Series 7 provides high-quality card printing. The ZXP Series 7 printer has an innovative design. It automatically adjusts to the thickness of the card, and ribbon loading is easy.With color coded guides and a clear LCD control panel, it's simple for anyone to use.

View Product

---