EasyGo! Asset Tracking Pro
Summary
Manage all the active assets at your Enterprise. You'll know the properties associated to all your assets with a single identifier so you'll be able to track all the items in your warehouse/office and store the GPS coordinates. Check and change asset status. Send details back to the server to update your database and record a history of changing properties.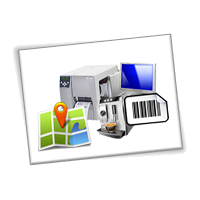 Description
EasyGo!AssetTracking allows you to keep an up-to-date list of the fixed assets owned and/or managed by a company or group. Even if the assets are located outside the companies premises.
Easy to locate, easy to find related info, and easy to keep track of all maintenance or actions associated with each asset. It's recommended to use a unique barcode label for each asset, but it's not mandatory to still be able to use this application. What is absolutely necessary is to assign a unique identifier to each asset.
Also important is to locate your assets and with this application you can store the GPS coordinates of the location of each Asset.
The mobile computer will have a complete copy of the assets database that needs to be managed. Upon the user input of a valid asset identifier (scanned or keyed) the mobile computer will  recognise and display all the details allowing the operator to perform different actions such as reporting status, recording maintenance, changing location or ownership etc…
---
Languages
Adobe Reader is required to open and view PDF files. This can be downloaded free from adobe.com.
Available Documents
Unstoppable Performance for 1D/2D Direct Part Marks (DPM) and Bar Codes

As a member of the Zebra 3600 Ultra-Rugged Series of scanners, the practically indestructible 1D/2D DS3608-DP corded and DS3678-DP cordless scanner brings the dependable lightning-fast capture of virtually every direct part mark to aerospace, automotive and other manufacturing plants where end-to-end traceability of every product component is required.

View Product

---

Based on DNP's proven wax technology, these quality ribbons expand your color possibilities while providing excellent print clarity and high smudge resistance when black just isn't enough. These ribbons are also specially formulated with DNP's backcoat technology for printhead protection.

View Product

---

The ZT230 features the durability of a metal frame and cover with an icon based LCD graphical user interface and larger ribbon capacity for long lasting use in demanding environments.

View Product

---

At the core of the CT4i printers is a new generation ultra high speed processor.

View Product

---