Decorative Auto Parts Labels
As in many cases, products are judged and purchased on the strength of their label. And auto parts are no different. Your automotive replacement parts packaging needs a colorful label to attract a buyers attention. Set your brand apart from the competition with unique, well-designed labels that showcase your products. You can use a wide range of materials to add value and style to your label and Weber can help you decide on the best fit of facestock and adhesive to guarantee that your label looks good and performs correctly.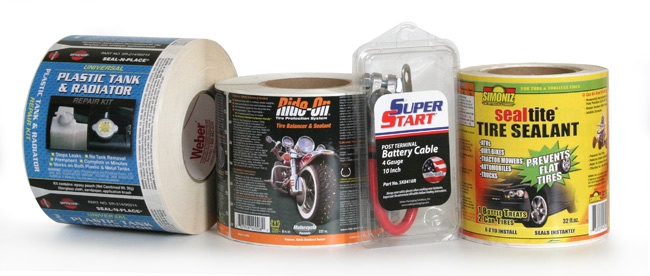 POP Automotive Labels
Materials:
Durable, UL-listed vinyl and polyester label face-sheet and adhesive combinations make your label work for demanding, long-term applications.
Overt security and authentication labels that used fracturable materials (destructible labels), messaging adhesives and holographic images keep your brand safe from counterfeiting.
If your package contains petroleum distillate or other liquids, be sure to chose a printing process and lamination to prevent label damage.
Flexible label materials are available in case your product comes in a squeezable or flexible container.
Artwork:
Labels need to be eye-catching to compete on the shelf in automotive after-market stores.
Clear clamshells are popular options and can be labeled easily.
You can use your label as a closure device on a box or clamshell package.
Adobe Reader is required to open and view PDF files. This can be downloaded free from adobe.com.
Available Documents
DS4800 is an industrial laser scanner combining flexibility and compactness thus satisfying all application needs of the production plant.
Through the smart focus adjustment DS4800 optimizes the performances based on the reading distance. This extends the reading area and
improves the overall read rate.

View Product

---

Brands and high-quality products need suitable labels to represent the image and reflect the branding. Weber Marking Systems is geared for the production of high-quality primary and pre-printed labels for any application.

View Product

---

Everyone uses sunscreen these days whether at the beach, playing sports outdoors, or at a family picnic. But how do you make your sunscreen product stand out from the hundreds of others on the store shelf? A simple, clean label design on a unique shaped container is the best way to get noticed. Bright colors and large characters for the SPF number are important considerations.

View Product

---

Produce labels come in all shapes and sizes. And some need special required information fields, QR codes, bar codes, traceability information and more.Let Weber help you get the most from your label by using the right materials that will match your requirements plus give you a label that will attract more buyers to your fresh produce.
Take a look at some of the labels we have made and see what we can do. Contact us for more information or help meeting your label requirements.

View Product

---