Tamper Evident
Weber's Tamper Evident OEM module is specifically designed to fit neatly into existing Serialisation or Pharma Packaging Systems.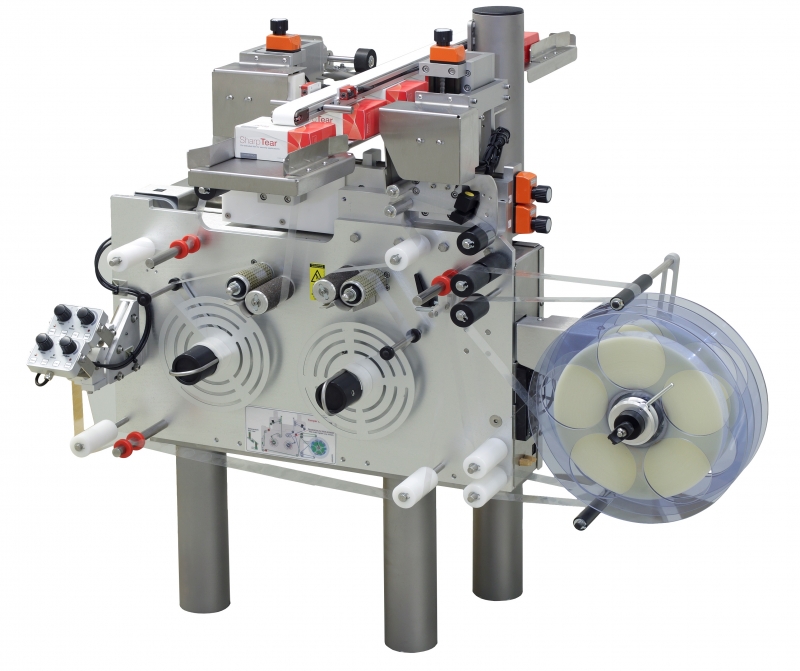 Tamper Evident Labelling Module
The EU Directive 2011/62/EU introduced legal framework requirements for a pan-European safety system for prevention of counterfeit medicines. A central component, which is also addressed in the pharmaceutical law, is a clear and secure marking system for database-backed traceability and tamper-proof sealing of all packaging. Weber can offer a compact, efficient and reliable solution to this requirement. A compact labelling unit is integrated into existing or newly configured Pharma Packaging Systems. A tamper evident label is applied to each end of the carton providing a secure seal which is checked by sensors. The data from all correctly serialized cartons is memorized using the track and trace software allowing each unique pack to be traced back to the manufacturer at any point in the supply chain.
Each individual carton is printed with a unique identity and 2D matrix code produced by sophisitcated track and trace software, which is linked to a vision system. In the event that the vision system detects a mis coded product the system can be configured for use with a Reject Station to dispose of the product.
As this solution is specifically designed for OEM Integration it has a small footprint for ease of installation and configuration. Maintenance and Label Reel change downtime is minimised due to the specific design of the system.
Special Features
Sealing labelling for protection against counterfeits

Two-sided corner labelling of folding boxes
Highly compact design to allow integration into existing plant
Output clocking up to 300 items per minute
Stepper motor driven applicator
Short set-up times when switching to other product formats
Processing of transparent, perforated labels
Speed-independent labelling via Tamp-Wipe-On method
Dual label roll unwinding
Adobe Reader is required to open and view PDF files. This can be downloaded free from adobe.com.
Available Documents
Manufacturing
THE ONE AND ONLY

The Algiz XRW® represents a revolutionary step in mobile computing. This ultra-rugged notebook combines unprecedented performance in the field with a slim, lightweight and compact design which is unique to the market.

View Product

---

The GL4e Series is SATO's most significant release of printing technology to date. Versatility and value are the cornerstones of the GL4e Series with features that surpass the competition. Only the GL4e Series offers a field-upgradeable UHF RFID option; an industry-leading printer management utility SATOnet CONNECT™; standard tri-port communication protocols, competitive emulations and much more.

View Product

---

Weber Label applicators offer numerous labelling options: Change of format The label dispensing head is quick to replace (approx. 30 seconds), with our optional Quick-Change system. This means that our label printing dispensers are equipped for the most varied of present and future labelling requirements – a system for many applications. Labelling from all sides […]

View Product

---

ECOMARK is the most competitive wax ribbon from Weber.
It makes no compromise between price and quality in order to match
standard wax labeling applications.

View Product

---