Industrial Inkjet Coding Solutions
Weber Inkjet Coding
Innovative product and packaging coding systems have been developed at Weber for over 40 years in close collaboration with our customers. With its various control systems, Weber is the world's only producer able to provide central control systems for three different print technologies.
In addition to Hewlett Packard printheads for high-resolution, small-format Inkjet Printing & Coding and the Trident printheads for large-format Inkjet Printing & Coding, newly developed Lexmark industrial printheads are now all supported. All systems allow flexible combinations to address all Inkjet Printing requirements in the highest possible quality, swiftly, touch-free and on absorbent and non-absorbent materials.
Thermal Inkjet Coding
Inkjet printers are a cost-effective solution to fast and contactless coding of products and packaging. Changing print text on a running conveyor? No problem! Our inkjet printers distinguish themselves through exceptionally high efficiency and also innovative features. Intelligent technologies offer better print results and will reduce your production downtime. A wide selection of different inks can cater for a wide range of special applications. Our Inkjet Systems are a cleaner more economical option when compared to traditional Continuous Inkjet Coding Systems that are often inefficient and costly for maintenance and consumables. Our Inkjet Systems are maintenance free as the Printing Technology is retained within the Ink Cartridge.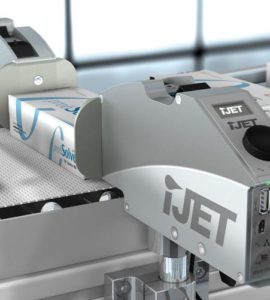 Designed for non-porous and absorbent surfaces
Robust Durable Solutions for Industrial applications
Simple to Install and Operate
Compact Design for ease of Integration
OEM Solutions Available
Print Widths from 12.5mm to 800mm
Our Products
Markoprint Thermal Inkjet Coding Solutions
Designed for use on even the most challenging substrates, our intelligent, high resolution thermal inkjet printers are simple to install, maintain and use on your production line
Benefits of Markoprint Inkjet Systems
Unique
Option of different printing technologies (HP, Funai, Trident and XAAR)
Solvent inks for durable printing, even on non porous surfaces
Intelligent
External HMI display port for display of print jobs and operating conditions
Ink cartridges with SmartCard technology (monitored ink consumption)
Flexible
Connect multiple Print devices irrespective of location
Easy to install into Packaging Machines for coding products
Multiple Printhead configurations for confined spaces
Flexible bracket printheads configurations for variable product spacing
Robust
Self-sealing shutter printheads for exposed production environments
Waterproof enclosure (IP65) for wash down environments
Click'n'Print cartridge support for simple change of ink
High performance
Outstanding high-resolution print quality up to 600 dpi
High-speed printing up to 240 m/min. at 300 dpi
Maximum 800 mm print height
Distances of up to 10 mm to product
Suited for contactless printing on various absorbant and non-absorbant surfaces
Large ink volume Storage of up to 1000 ml
Effective
NonStop Printing function (two printheads simultaneously) to eliminate downtime
Optimising performance, doubling system range, reducing costs, changing cartridges on the fly
Central control of up to eight different printheads to mark different products simultaneously
Versatile
Touchscreen or full keyboard for ease of print format design
Networking of devices for convenient transfer of layout data
iDesign layout software offers extended design options
View our Inkjet Portfolio Videos
Accessories for Markoprint Printers