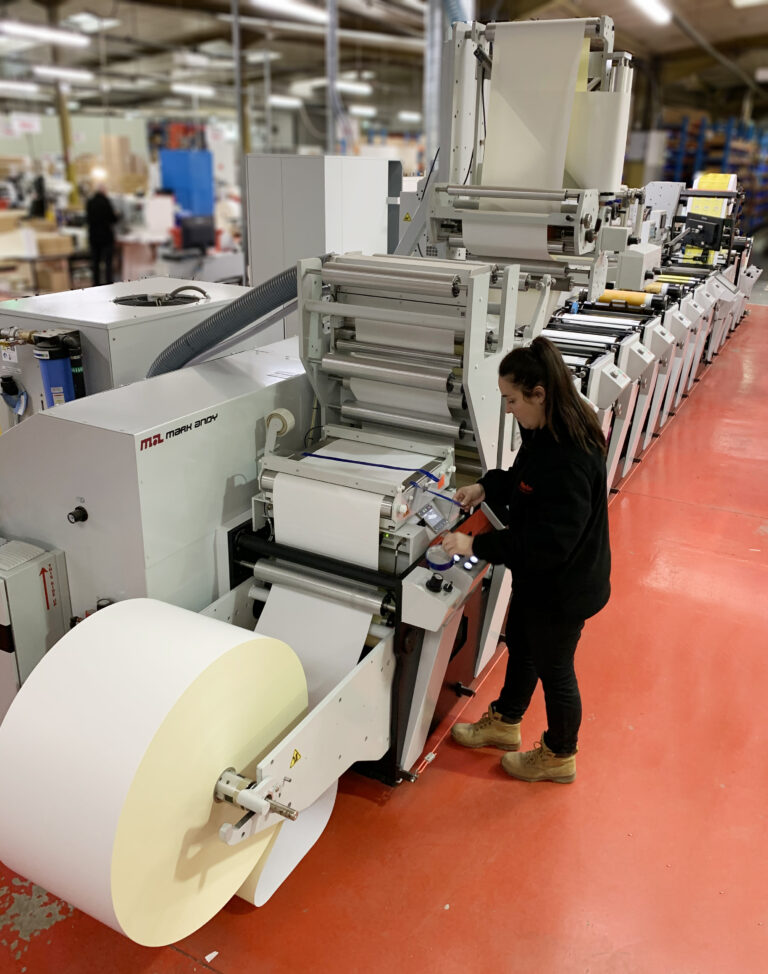 Weber Packaging Solutions has recently installed a Mark Andy Performance Series P5E flexo press at its UK headquarters in Scotland to add to its ever expanding fleet of Label Presses. The UK Label Production facility is one of the largest Label Converting Plants in the Weber Group which has production plants across the world from Europe to Central America, and Australia, and lists more than 50,000 companies in its customer portfolio.
"We have a longstanding relationship with Mark Andy that dates back to when they first began manufacturing label presses, and now have a large number of its presses installed in Weber plants around the world.  In fact, the vast majority of Weber Accredited Printing Press Operators have trained and worked on Mark Andy presses and acquired a wide-ranging level of skill and experience from them."
The Performance Series has been the fastest selling narrow web flexo press in history and now has more than 1000 global installations.  The new P5E at Weber is a 17" (430mm) eight-colour press, fitted with a chilled impression roll for film applications and a cold foil facility.  It has Mark Andy's award-winning QCDC system for quick and easy die changing and the company's new advanced waste windup.  Capable of production speeds up to 750 ft/min (230m/min) on substrates from 12- to 356-microns, the P5E has 360-degree registration adjustment and controlled ink densities to ensure accurate dot repeatability.
Installed at Weber's 50,000sq/ft factory near Edinburgh that employs more than 70 people, the new press offers both increased capacity as well as added value capability to bring unsupported film and smart labelling applications into the company's large product portfolio.  This will be particularly useful for Weber's extensive range of products that embraces prime printed labels, RFID, booklet, no-look, foil and embossed labels for markets as diverse as pharmaceutical, food & drink, chemical, fabric homecare, automotive and retail, amongst others. 
With a premium list of international customers to serve that includes leading brands like Amazon, Johnson & Johnson, GlaxoSmithKline, and Coca Cola, Weber recognises the need to invest in the latest label production capacity to guarantee high quality products that satisfy the ever-changing demands of a diverse range of industries.
But there's more to Weber than printed labels.  Patrick Hughes, who has worked for the company since 1999, says he's seen a fundamental change in the company's business in that time.  "We've grown from being a global label converter to a direct manufacturer of automatic high-speed labelling systems, thermal inkjet coding systems and a complete auto ID solutions provider for food, pharma, and logistics companies worldwide."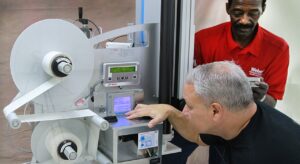 In addition to the range of Mark Andy presses onsite, Weber has wide web blank label converting machines combined with inkjet overprinting systems.  This gives the company the high speed and efficiencies it needs for low cost blank label production to satisfy the growing E-commerce industry.  It also provides its customers with one- and two-colour variable overprinting for sequential barcoding or hazard labelling solutions.
Stating that Weber's group strategy is to develop and enhance its range of labelling and coding systems alongside its label manufacturing division, the new Mark Andy P5E is seen as a means of providing an enhanced level of service to its extensive customer portfolio that demands approximately 10 million linear metres of labels each month.  All production is quality controlled inline, with ISO 9001/14001 and BRC quality standards.