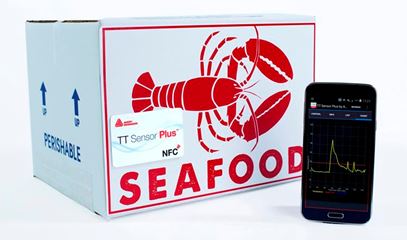 Credit card-sized label records temperatures a product is exposed to throughout the supply chain
Following its successful launch in the United States in September, Avery Dennison has introduced the TT Sensor Plus temperature data logger to the European market as a simple, reliable, and cost-effective way to track temperatures during a product's supply chain journey.
"TT Sensor Plus uses the latest temperature data logging technology to provide brand owners the ability to collect data regarding the temperature ranges their goods are subjected to during shipping," said Mary Greenwood, director new technology & business development, for Avery Dennison. "The resulting analytics allow them to make informed decisions about whether a product's quality has been preserved or compromised en route."
The credit card-sized label, which can either be inserted or adhered to a package, stores its data in a built-in Near Field Communication (NFC) chip powered by a flexible battery. The TT Sensor Plus can be read and programmed by any NFC enabled smartphone or other smart device. "The use of NFC technology makes the accessibility of TT Sensor Plus' data nearly universal," Mary adds.
Pharmaceutical products are seen as prime candidates for the use of the temperature-monitoring labels. "These labels can provide data to pharmaceutical companies that not only help safeguard the integrity and safety of individual shipments to patients. Compared to most data loggers in use today they can also cost-effectively be used to provide an ongoing picture of the dependability of the entire supply chain," Mary explains.
The device was recently used to monitor the performance of small-scale, climate-controlled food and beverage shipments. In one such case, Desert Farms, a California-based provider of camel milk, for the North American market, used the TT Sensor Plus to track shipments from farms in the US Midwest to customers around the country to see if fresh milk shipments stayed below 40 degrees Fahrenheit (4 degrees Celsius) and frozen milk shipments stayed below 0 degrees Fahrenheit (-18 degrees Celsius) in a variety of seasonal and travel conditions.
A test was conducted on shipments to customers in four US states, using two labels per shipment: one monitoring temperatures on the outside of a package and one monitoring temperatures on the inside. The test identified two temperature spikes outside of the acceptable range. One was the result of the untimely evaporation of the package's dry ice, and the other from a cracking of the shipping package.
Desert Farms is using the data to help choosing the best shipping durations for different parts of the country. In some cases opting for second day delivery in warmer months and ground shipping in cooler months. This kind of information improves the efficiency of their operation.