Zebra ZT400 Series
Keep your critical operations running efficiently with Zebra's durable ZT400 Series printers, designed for years of performance in a wide array of applications. The ZT400 Series builds on the field-proven reliability of the Z Series™ with advancements in print speed, print quality and connectivity options. Designed for ease of use, the ZT400 Series printers offer […]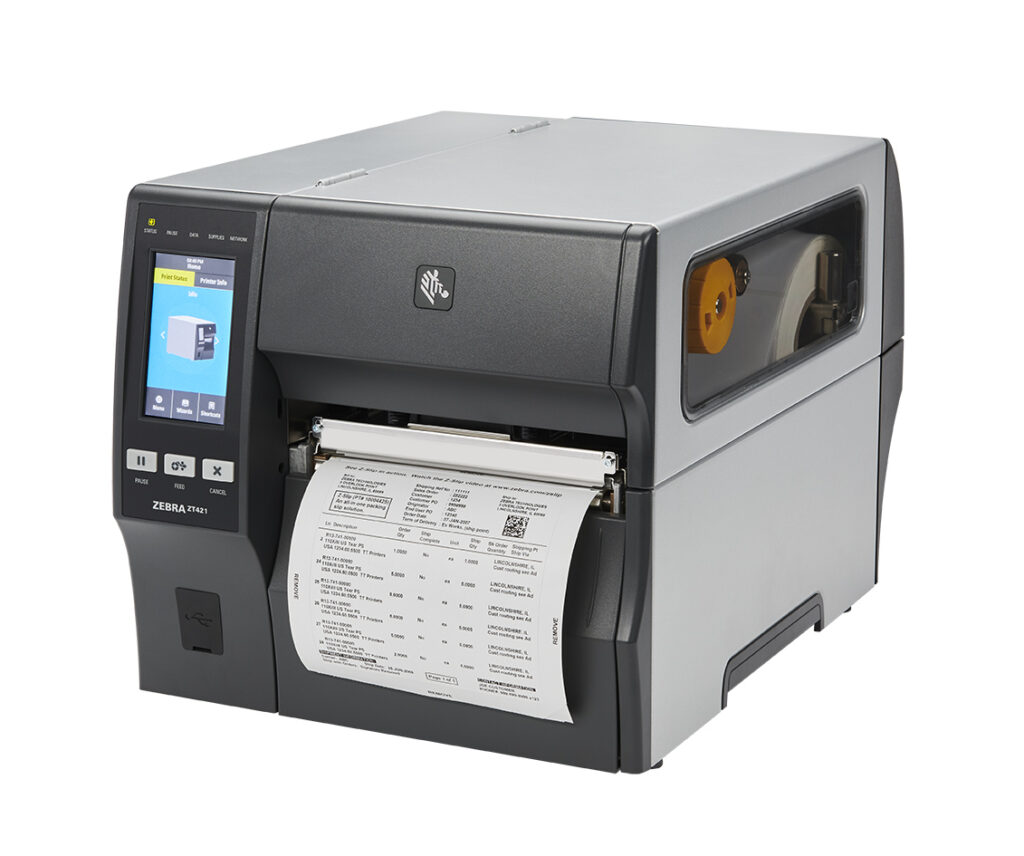 Keep your critical operations running efficiently with Zebra's durable ZT400 Series printers, designed for years of performance in a wide array of applications.
The ZT400 Series builds on the field-proven reliability of the Z Series™ with advancements in print speed, print quality and connectivity options. Designed for ease of use, the ZT400 Series printers offer an intuitive icon- based LCD graphical user interface and easy-loaded supplies. And, they also include standard USB, Serial, Ethernet and Bluetooth® capabilities. Expanded RFID capacities deliver greater tracking abilities, deeper visibility and enterprise insights.
The ZT400 Series is offered in both 104mm (4") and 168mm (6") models and comes standard with an extensive set of advanced features that ensure your printer investment will always meet your needs, now and in the future. Constructed using an all-metal frame and bi- fold door, this printer is designed to fi t well in space-constrained environments.
Featuring Zebra's Link-OS® environment – an innovative operating system combining a powerful Multiplatform Software Development Kit (SDK) and software applications – ZT400 Series printers are easy to integrate, manage and maintain from any location around the globe.
Ideal for These Applications
Manufacturing: work-in-process, product ID/serial numbers, packaging labels, receiving/put- away labelling
Transportation & Logistics: order picking/packing, shipping/ receiving, cross-docking, compliance labelling
Retail: distribution centers, back-of-store operations
Healthcare: laboratory labels, blood-bank labels, asset tracking, pharmacy labelling.
Designed to grow with your evolving business needs, the ZT400 features increased processing capabilities and an open operating architecture providing flexibility to support your ever-growing and changing application requirements.
Application Flexibility
Expand your printing readiness through an exceptional range of media capabilities and media delivery options.
Customise your printer to match your current and future business needs with end-user-installable media handling options.
Standard Serial, USB, Ethernet and Bluetooth features – as well as two open media slots – allow you to utilise optional connectivity options.
Expanded RFID capabilities are easy to install and simple to use.
Ensure quality output for small-label applications with high-resolution printing capabilities.
Effortless to Integrate
USB host port enables simple printer configuration by easily transferring data from a USB fl ash drive via mirroring and expanded mapped-drive memory capabilities.
Virtual Devices apps enable Link-OS printers to support well-known legacy and competitor printer languages – in addition to ZPL® and EPL™– for a future-proofed investment.
Easy to Operate
Dynamic QR codes provide on-demand, web-based support to resolve printer errors quickly.
Print Touch-enabled Link-OS printers offer web page launching features using Near Field Communication (NFC), making it easy to access Zebra's extensive knowledge base of how-to videos and product support.
Lighted media and ribbon paths make it easy to see inside the printer, even in poorly lit environments.
Simple to Manage
Zebra's Link-OS environment delivers enhanced capabilities to monitor, manage and maintain your printer from any location.
Cloud Connect allows Link-OS printers to securely and directly interact with the Cloud for printing and device management.
Profile Manager enables you to edit and manage one printer, batches of printers or all Link-OS printers across your network anywhere in the world
The FX7500 Fixed RFID Reader introduces advanced Zebra Solutions-designed RFID radio technology for faster, more accurate read rates and more consistent performance even in challenging environments. The new radio is paired with a more flexible Linux-based network architecture that integrates the tools and open-standard interfaces needed for fast, easy deployment with RFID and back-end applications. The result is a fixed RFID reader that sets a new performance standard — delivering peak performance at all times with excellent reader sensitivity and better interference rejection, at a lower cost per read point.

View Product

---

The Markoprint Integra PP108 is the first inkjet printer with SEIKO printing technology and a circulating ink system. It features a POZIFLOW circulating ink system which prevents the accumulation of air in the nozzles and ensures a permanent, clean print image without missing print due to blocked nozzles. The system's ink tank can be installed above, below, or at the same height as the print head without any problems. The new SEIKO printhead has a print height of 108 mm and achieves a remarkable speed of up to 150 meters per minute with a high resolution of 360 dpi.

Suited to Dual Colour Printing Applications such as Hazard Labelling, Dual Colour overprinting and Direct Printing Applications to corrugate, and web printing applications, the PP108 is the latest high end, economical Inkjet System using the latest Drop on Demand Printing Technology.

View Product

---

HIGH PERFORMANCE CARD PRINTERS

Using the latest in Zebra card-printing technology, the ZXP Series 7 provides high-quality card printing. The ZXP Series 7 printer has an innovative design. It automatically adjusts to the thickness of the card, and ribbon loading is easy.With color coded guides and a clear LCD control panel, it's simple for anyone to use.

View Product

---

Features

High Speed Throughput 203 / 305 dpi
Flexible Connectivity
User friendly operation
Low Cost of Ownership
Unicode Support
Built in Emulation Language

View Product

---