Zebra FX7500 RFID Reader
The FX7500 Fixed RFID Reader introduces advanced Zebra Solutions-designed RFID radio technology for faster, more accurate read rates and more consistent performance even in challenging environments. The new radio is paired with a more flexible Linux-based network architecture that integrates the tools and open-standard interfaces needed for fast, easy deployment with RFID and back-end applications. The result is a fixed RFID reader that sets a new performance standard — delivering peak performance at all times with excellent reader sensitivity and better interference rejection, at a lower cost per read point.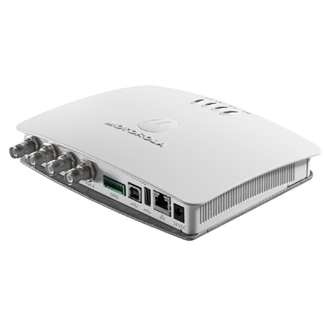 The FX7500 comes in a sleek, attractive form factor with a low profile and compact footprint, at home in nearly any business environment. It also looks good on the balance sheet, with an impressive array of integrated features and functionality that pack value for your business class applications.
All-new high performance radio technology
Higher sensitivity, improved interference rejection and echo cancellation means you get the best-in-class dense reader mode performance, up to 1200 tags/sec in FM0 mode.
Integrated Power Over Ethernet (POE), optically isolated GPIO, USB Client and Host ports with Wi-Fi and Bluetooth connectivity via USB
All the tools you need for fast, easy deployment and simplified ongoing management of your RFID applications are built right into the FX7500 architecture.
Adobe Reader is required to open and view PDF files. This can be downloaded free from adobe.com.
Available Documents
zebra FX7500
FEATURES

Label and Wristband Printing
High Speed Printing
Printing Resolution of 203 / 305 / 609 dpi
Anti-microbial Casing
Small, Compact, High
Throughput Design
Easy Media Loading and Maintenance
Wireless Connectivity
RFID Ready

View Product

---

Performance leaders in mission-critical RFID printing applications, these reliable print engines with RFID technology empower you with an integrated solution for identifying packages, cases and pallets.  The ZE500R embeds a fully integrated ThingMagic RFID Reader/Encoder and supports the ability to print and encode short pitch item level tags, chip based serialization and block permalocking of user memory.

View Product

---

A core requirement of the European Directive 2011/62/EU that will come into force by 2016 is to equip the outer packaging of medicals with a tamper evident feature. Which should ensure the customer that he is the first opening the package.

View Product

---

The X1JET XR inkjet printer is a stand-alone printing system that uses an XR Class piezo printhead. The printhead, ink system, maintenance station, and control electronics are all housed in one compact all-in-one device. Three different versions are available for different applications: in the Compact version, the printhead is mounted for horizontal marking. The Vario version printhead may be rotated 90 degrees anti-clockwise for added flexibility. The printhead is connected to the ink system via a 1000mm long hose in the Top version, which provides greater flexibility.

The oil-based XR 980 ink is ideal for printing on both mildly absorbent and absorbent product surfaces. Its quick drying period makes it ideal for printing on painted folding boxes.

View Product

---