MC67 Mobile Computer
Give your field workforce customers the tools they to work faster and smarter than ever before with the MC67
What can your customers accomplish with the MC67? Everything they need to get the job done. Your customers can choose the operating system that best supports their mobility strategy — Windows® Embedded Handheld 6.5 or Android™ Jelly Bean (4.1) — to instantly access the wealth of information in their business systems to increase task efficiency and accuracy. This fully-featured powerhouse of a device lets workers access information in the backend system; scan practically any bar code in almost any condition; capture documents to simplify recordkeeping; take and send video and photos for real-time repair support; and call a customer with an arrival window — all at 4G HSPA+ speed.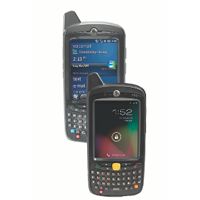 MC67 Key Features and Benefits
Our most rugged compact mobile computer
In a factory or out in the field — whatever users dish out, the MC67 is built to take it. They can drop it on concrete, drop it in water, use it in the heat, cold, rain or snow.
The 3.5 in. resistive display is exceptionally bright for easy reading, even in bright sunlight, with the power efficiency required to maximize battery cycle times.
High-speed cellular and Wi-Fi wireless connections
4G HSPA+, 802.11a/b/g/n, Bluetooth 2.1 EDR and best-in-class GPS work together to bring workers the best and fastest voice, data and peripheral connections available whether they're in the office or on the road.
All the power needed to get the job done
A dual core 1 GHz processor and 2GB of Flash memory lets field workers enjoy best-in-class performance with plenty of room for multiple apps, photos, databases and more.
No matter what type of bar code workers need to scan, the MC67 can capture it with advanced scanning technology. Scan 1D and 2D bar codes at laser speed — even if the codes are dirty, damaged or poorly printed.
With Dual-Microphone Noise Cancellation technology, background noise during calls is greatly reduced — all anyone will ever hear is you.
Android fortified for the enterprise
Extensions (Mx) from Zebra transforms Android from a consumer operating system (OS) to a true enterprise-class OS with a series of additional features and options that improve security, device management and support for advanced enterprise data capture.
RhoMobile Suite supported
RhoMobile Suite applications will run on both MC67 Android and Windows Embedded Handheld devices.
Adobe Reader is required to open and view PDF files. This can be downloaded free from adobe.com.
Available Documents
mc67 Spec Sheet
The compact and low-cost LA2050 label print and apply system is designed for automated print and apply processes on a production line. It can also be used in semi-automatic mode where automatic label application is not required with the system being used as a label print and dispense system, with the label applicator system being initiated manually by the operator.

View Product

---

Summary

Report your support tickets in the easiest way with this application. Just enter the priority, the customer related information, the incident details and it's ready to be reported to support.

View Product

---

The Symbol LS2208 handheld scanner from Zebra offers high performance scanning at a moderate price point. From the retail point-of-sale and backroom to the patient bedside or school book checkout, the Symbol LS2208 provides fast, reliable scanning in a durable, lightweight form factor, delivering enhanced productivity and efficiency while reducing your total cost of ownership (TCO). With aggressive scanning capabilities and a wide working range, the Symbol LS2208 accurately captures data fast, helping employees work quickly and efficiently. And you'll be up and running fast, because the Symbol LS2208 is easy to deploy and use, thanks to its plug-and-play installation and intuitive, user-friendly design, which requires little or no training. Plus the ergonomic, balanced form factor reduces user fatigue to maximize user comfort.

View Product

---

For manufacturers, wholesalers, retailers and offices, investing in high-quality and efficient label printers to have on the premises can bring significant long-term cost and time savings for your business. Up-to-date, accurate and fast labelling of products is essential in today's production and business world. With such a depth of experience and broad expertise, Weber Packaging Solutions is your best choice for label printers and label applicators in the UK & Ireland.

View Product

---