LABELS on the GO!
Summary
LABELS on the GO! provides you with the ability to print labels from a database of information, which resides on a Mobile Device, then prints to a Mobile Label Printer. Flexible configuration allows the user to design custom label formats that can include linear or two dimensional bar codes. Also defined by the user is a database of multiple data elements to drive label printing. Use LABELS on the GO! when labels are needed and you do not have access to your host system or when you need to print new labels that are not currently available from your application software.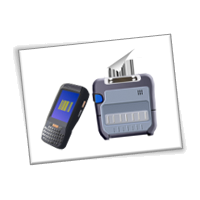 Description
LABELS on the GO!  is a flexible software application that makes printing labels in a mobile environment easy and operator friendly.  Never again will you have to preprint and waste labels because of lack of access to your data and a label printer.
A local database of information, the Data Master, can contain up to 9 user defined data elements.  A data element has no defined size, so each can be as large or small as required.  These data elements can be derived from a single data source (i.e. Item File) or from multiple data sources (i.e. Item File, Shipping File, etc.)
There can be up to 9 custom Label Formats.  Custom formats allow for printing multiple label styles.  Additionally, different printer manufacturer's mobile label printers can be used which have different printer command languages.
During setup, you define a Field Name to be associated with each of the data elements you plan to use in the Data Master.  Along with the Field Name, you specify whether the data is Fixed or Variable.  Variable data elements can be changed at print time prior to printing a label.  The Field Name is then used in the Label Format file to represent data that will be replaced at print time.
Cumbersome cables will not interfere with your productivity as communication between the Mobile Device and Mobile Label Printer utilizes Bluetooth. Please ensure your selected equipment supports Bluetooth.
LABELS on the GO! is fully configured by the user.  It can be used very simply or with a little planning accommodate a more detailed design.  Either way, LABELS on the GO! can solve most of you mobile label printing needs.
---
Languages
Adobe Reader is required to open and view PDF files. This can be downloaded free from adobe.com.
Available Documents
Summary

BCP Apps – Data Collect Plus is designed for those customers who need a straight forward data collection application with a choice of multiple programs. You can choose to have either ONE, TWO or THREE programs in the Application each with their own unique data fields. Each data field can be named and its length defined prior to installation. One of the fields in each program can be nominated as an Additions field that will total up all entries made in that field and display it on each screen. Each data field allows either scanned or keyed data entry for ease of use. There is an added facility for the operator to view the data collected and delete entries if desired, prior to downloading to the host. All entries in the Data Files are time and date stamped and can easily be downloaded into the customers Database or Excel spreadsheet by using WLAN or just a USB connection. What could be more straight forward?

View Product

---

Give your field workforce customers the tools they to work faster and smarter than ever before with the MC67

What can your customers accomplish with the MC67? Everything they need to get the job done. Your customers can choose the operating system that best supports their mobility strategy — Windows® Embedded Handheld 6.5 or Android™ Jelly Bean (4.1) — to instantly access the wealth of information in their business systems to increase task efficiency and accuracy. This fully-featured powerhouse of a device lets workers access information in the backend system; scan practically any bar code in almost any condition; capture documents to simplify recordkeeping; take and send video and photos for real-time repair support; and call a customer with an arrival window — all at 4G HSPA+ speed.

View Product

---

The fast and reliable ZXP Series 7 prints photo-like cards for medium- to high-volume applications – Utilising the latest in card-printing technology, the ZXP Series 7 card printer provides high-quality card printing.  The printer delivers fast yet reliable performance whilst offering users exceptional value by lowering the printer's total cost of ownership. Time after time, it prints sharp vivid cards with precise colour control.

View Product

---

Utilizing driver's license information to increase productivity and reduce liability

The Symbol DS6708-DL combines all the features of Zebra's standard DS6708 imager, such as omni-directional 1D/2D bar code scanning, with embedded and server-based parsing agents that enable users to read the PDF-417 bar code on a US driver's license and use that information for a multitude of applications including auto-population of a credit or loyalty card form, age verification or returns monitoring. With a simple scan of a driver's license, retailers can increase efficiencies, reduce manual keying errors and ensure that they are complying with local, state and federal regulations regarding the sale of certain items such as tobacco and alcohol.

View Product

---