Zebra PAX 4™ Series Print Engines
Versatile, Four- and Six-Inch-Wide – OEM Print Engines PAX 4™ print engines deliver superior performance and reliability. The 110PAX4 and 170PAX4 print engines are the performance leaders in mission-critical print-and-apply applications. With enhanced connectivity, including wireless and Ethernet, along with all-metal construction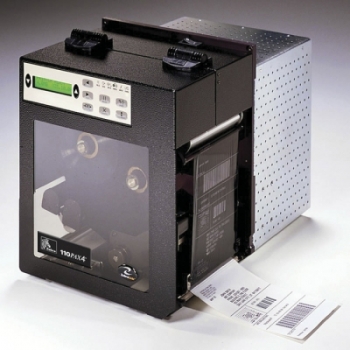 Better than ever for high-volume needs
With improved serviceability, faster first-label-out time, and a fully functional real-time clock, the PAX4 print engines deliver what it takes to make print-and-apply solutions super performers. European voltage requirements are now met with the 28V I/O option.
Real-time connectivity and control
Reduce downtime and increase productivity. Through ZebraLink™, PAX4 print engines can send you instant status alert messages and give you Web-based centralised control, allowing you to troubleshoot quickly and keep production lines moving.
Adobe Reader is required to open and view PDF files. This can be downloaded free from adobe.com.
Available Documents
The Easy Way to Empower Field Teams with a True Mobile Office

Today's field service organizations need a powerful mobile computer that can access the people and information required to maximize efficiency and better serve their customers. Field workers want an enterprise-class handheld built for life out in the field—but also expect a device that is every bit as refined and easy to use as their own consumer smartphone. Introducing the TC75—a complimentary mobile computer to the TC70 and the Android mobile computer that delivers it all. Featuring a rugged design that delivers reliable everyday operation, the TC75 provides anywhere, anytime access to virtually any information in back-end systems. With fast data access and support for all 4G GSM cellular networks, the TC75 offers the ability to capture more types of data faster than ever before—plus instant push-to-talk communications with co-workers in the field or with supervisors, dispatch, and more back in the office. Also, a full complement of accessories meets the unique needs of virtually any mobile worker. The TC75 is the easy way to empower field teams with a true mobile office.

View Product

---

Fast, reliable, economical solutions to product labelling: Geset 100, 300 and 700 labelling machines are part of a modular system. Up to 50 modules are available for design solutions to customer demands. The Geset 100 is a labelling machine for small production series, designed to produce small volumes as accurately and flexibly as would a large plant. Its robust construction renders it ideal both for intermittent use of only a few minutes per day and for multiple shift operation.

View Product

---

RWG500 – Label Rewinder
This Label Rewinder is ideal for batch printing applications and accommodates label rolls up to 5″ wide (optional 7″ extension available) with roll O.D. of up to 8″. It can be self-powered with an optional external power module.

View Product

---

The DS6878-DL cordless 2-D imager offers the complete data capture functionality required to streamline and error-proof everyday processes. Comfortable and easy-to-use, this single device can capture all common barcodes (1-D, 2-D and PDF417) on labels as well as on mobile phone displays.

The on-board drivers license parsing agent enables instant decoding of barcoded information on driver's licenses to support a wide variety of value-added applications. The optional hands-free presentation cradle enables additional advanced capabilities: signature, document and photo capture; optical character recognition (OCR) to capture text in documents; and MICR to capture numeric information on the bottom of checks.

View Product

---