EasyGo! Meter Reading
Summary
Fully customizable tool to read your customers metering devices: gas, power, water… Any kind of metering device can be checked. Manage the meters of your company with just a few clicks. Optionally, use predefined routes to guide your operator (meter devices out of the route can be processed also). Finally, use the device camera to take a photo of the meter: a picture is worth a thousand words!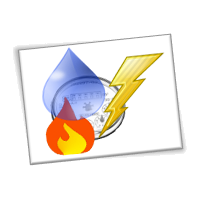 Description
EasyGo! Meter Reading allows you to check and read the meters of your enterprise, with or without barcode labels.
EasyGo! Meter Reading allows you to guide the operator by using predefined routes loaded from the host. Even when using predefined routes, if enabled in parameters, the operator will be able to read metering devices that he finds out of the route.
Using predefined routes is optional. If it isn't necessary, just keep it simple and the let the operator read metering devices without guiding.
When reading a metering device, you can take a picture to have evidence of the information registered. Use of the camera is optional and only available on certain devices – check www.myappsource.com to find out the supported devices. Several configurations are available for camera usage. These include: picture is optional, picture is mandatory …
When the readings are completed, and the host is available, the meter readings and related pictures will be ready to be uploaded, via cradle or WiFi, to the host.
---
Languages
Adobe Reader is required to open and view PDF files. This can be downloaded free from adobe.com.
Available Documents
EASYMARK is the standard Weber wax ribbon which delivers consistent print
quality on any kind of paper label materials. It prints high density legible
barcodes and traceability data for short life labeling needs.

View Product

---

AWR®8 is the very latest generation of ARMOR wax ribbon. It is a competitive ribbon that doesn't make any compromise to quality and printing performance. AWR®8 matches all criteria expected by a traditional wax application.

View Product

---

Delivering the Latest in Technology in a Compact and Lightweight Form Factor

When managers and task workers are on the move inside the facility, the rugged MC55A0 mobile computer keeps everything they need to take instant action at their fingertips. Pure business on the inside and smart styling on the outside, the MC55A0 lets workers access business applications, scan bar codes, snap a photo, view a video and place a private or push-to-talk call to virtually anyone in the facility—all with a single device.

View Product

---

An affordable, host-based kiosk printer for 3-inch-wide receipts, Zebra's compact KR203™ printer delivers unparalleled value and reliability for a variety of self-service applications. The KR203 draws upon the kiosk PC's processing power and memory resources instead of its own, making it a highly cost-effective choice for customers who need a high-quality kiosk printer at the lowest total cost of ownership.

View Product

---