EasyGo! TicketValidate
Summary
Validate and control the authenticity of the tickets sold on site with this straight-forward yet powerful application. Check Theater, cinema, and sport event tickets… virtually any kind of ticket containing a barcode can easily be checked with this app. Combining this app with another app from EasyGo!, EasyGo! TicketsSale offers an entirely ticket validation cycle; sell-print-scan-validate tickets.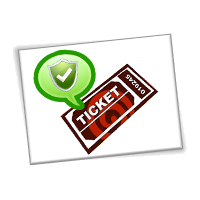 Description
EasyGo! TicketValidate is a complete ticket validation application that will help your staff at the entry of a theatre, sports event, cinema, or other occasions to check and validate any kind of ticket for validity, including all your sold tickets.
First, the operators will have to enter their user ids and passwords to sign in into the system. Optionally the system can be provided with a pre-loaded set of Users/Operators and login details. A validation is done and a valid user id and password is required to start working with this application. In case the system is not provided upfront with such pre-loaded User/Operator list it is still required to enter a user id. In this case, the user id is not validated but will allow future tracking on who was selling which tickets.
Once the operator is signed in, the operator can start validating tickets. Several options are ready to be used, and can be adapted to your typical organizations:
To validate a ticket, just read or manually enter the barcode containing the ticket id. If you're working without a ticket master file you'll also need to read the CRC code of the ticket. The device will calculate, based on a preconfigured method, if the ticket is authentic even though there's no master ticket file to check. As the app keeps track on all previous validated tickets the device will reject any of such double offered tickets which prevents 'pass-back' of tickets.
Once the ticket is validated, you'll be able to review in the screen the information associated with the ticket. The operator can increase his service level by e.g. guiding the customer to the correct place.  EasyGo! TicketValidate can be customized to your validation process. Based on your operations you may configure the application to skip this last step and directly wait for the next ticket to be validated.
EasyGo! TicketValidate keeps track of all tickets, based on their status (To be validated/Validated/Error messages) and stores them on the permanent memory of your mobile device. Each file may be reviewed later, on the host.
Finally, upload your validation files to the host via cradle or Wi-Fi.
---
Languages
Adobe Reader is required to open and view PDF files. This can be downloaded free from adobe.com.
Available Documents
APR600 is the worldwide reference of premium ribbons for Corner Edge and Near Edge printers. It is the standard ribbon in ARMOR's wax/resin range. Its performance (speed, sensitivity, versatility, blackness) provides a perfectly adapted answer a large majority of applications.

View Product

---

Manual Roll Dispensers MB Series: The essential dispenser for larger rolls of self adhesive labels where low volume application is required.

View Product

---

The new Legi-Air 5300 is a modular Label printer and dispenser distinguished by its extremely versatile applications and a very high operating run time. In addition, the system offers a high degree of operator-friendliness: the operator is supported in his work by several functions such as service interval or operating condition display.

View Product

---

ZEBRA ZT600 SERIES – INDUSTRIAL BRAWN FOR EVERY CHALLENGE

Advancing the legacy of the industry-leading Xi Series, the Zebra ZT600 Series printers combine rugged durability and exceptional performance on a user-friendly, future-ready platform.

To keep your critical operations running smoothly, you need high-performance industrial printing systems that can stand the test of time, both physically and technologically. Zebra's ZT610 and ZT620 advance the legacy of their industry leading Xi Series predecessors, offering next-generation operational visibility, control and adaptability to meet your evolving needs—all with the rugged durability and 24/7 reliability you expect from Zebra.

View Product

---