EasyGo! BedSideOrder
Summary
From the patient's hospital bedside straight to the kitchens with EasyGo! BedSideOrder! Use this quick and easy application to help your nursing staff take meal orders from the patient's bedside and send them straight to the hospital's kitchens in just a few simple clicks. Safeguards can be applied to help the nurses avoid meal options that could be harmful for the patient, and comments can be added to individual orders.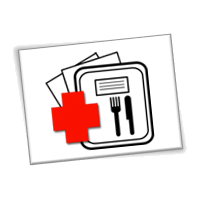 Description
EasyGo!BedSideOrder will assist the nurse in the process of creating the meal orders at the bedside in a hospital.
To start off, the nurse will enter the patient ID code, with or without barcode labels. The application will show on the screen the information related to the patient (name, age, gender…). Also, an observations field will be shown. It can be used to have extra information about the health or preferences of the patient.
Select the meal service to place the order and ask the patient about his preferences. Choose the dishes from the available menu to order them. Before the final confirmation, the nurse can add additional notes. These notes can be preferences or additional needs of the patient.
It is possible to associate incompatibility parameters (diabetes, celiac disease, hypertension…) to the patient ID. These incompatibility parameters can also be associated to meals, so they will not appear as an option when selecting the dishes for the menu.
It is necessary to load patient and meals information before starting to work. Once the operation is concluded, the nurse will be able to upload the data to the server.
---
Languages
English
Spanish
Adobe Reader is required to open and view PDF files. This can be downloaded free from adobe.com.
Available Documents
Checker Vision Sensor Features

The Checker® vision sensor is an award winning all-in-one industrial sensor with built-in camera, processor, lighting, optics, and I/O capable of detecting and inspecting up to 6,000 parts per minute–all in an industrial IP67 enclosure small enough to fit into the tightest of spaces.

View Product

---

ZEBRA ZT510 – NEXT-GENERATION PRINTING THAT IS BUDGET-FRIENDLY

Designed to strike the ideal balance between performance and value, the Zebra ZT510 includes the core features you need in an industrial printer at a cost-effective price point.

View Product

---

The compact and robust controllers XB4JET and XB8JET are used to control the inkjet printheads for product marking solutions. The following Markoprint printing technologies are supported: Hewlett-Packard, Funai, Trident.

View Product

---

The perfect colour printer for GHS and medical device labels.

Now you can dramatically reduce colour label costs, increase operational efficiencies and quickly produce high-quality colour labels with Just in Time ColourTM printing on Epson's high-speed ColourWorks C3500 Inkjet Label Printer. This compact inkjet printer is perfect for in-house on-demand printing of small GHS chemical labels, short run food labels, medical device labelling and more.

View Product

---