Dairy Product Labels
When labeling dairy products like cheese, milk, and other refrigerated items, you want a label that looks good, conveys your message but also stands up to the cold, moist atmosphere. A good label design will entice customers to try your brand. Bright, colorful labels can be used to create families of products, too. Check out some of the eye-catching labels below.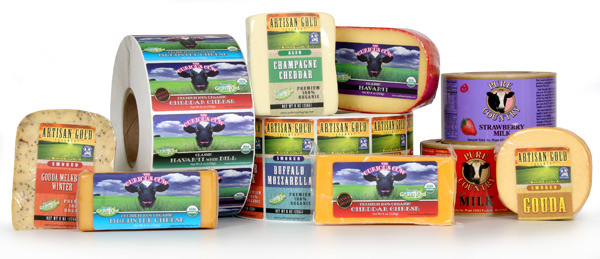 Great Looking Labels That Stand Up To The Cold.
Dairy Product Label Tips
Materials:
Use clear label material or foils to create dimensional effects with your label
Be sure to use label materials that will stand up to the environment if they are exposed to damp or refrigerated conditions for a length of time.
Artwork:
Use unique designs and colors to convey a family of products. This makes it easier for consumer to return to your brand by sight.
Keep your design simple but eye-catching. Adding humor to your can attract an audience. Custom die shapes allow you to use interesting shapes for your label.
Add a QR code so your customers can interact with your company, free offers, recipes and more.<
Weber can also help you apply your labels with a label applicator sized to fit your needs, from small boutique spice companies to large automated seasoning production labellers.
Small to Medium Label Applicators
Medium round container label applicators
Large round container labeling systems
---
Cheese LabelsPart of getting your brand noticed at a store is by using an eye-catching label. These cheese labels are not only a clever design, but are printed on metallic foil labels to create a shimmering effect when viewed. The result is family of labels that is hard to miss!

Labels printed on our high-resolution HP digital presses are vibrant works of art!

Label Size: 4.25″ wide x 2.25″ high

Facestock: Metallic Paper

Print method: Digital

Top Coat: Dull spot varnish

Cheese Labels

When designing your label, you want to evoke a feeling about your product. These cheese labels use farmland images and old style fonts to convey quality and traditional values. The color-coded labels make it easier to associate the labels with the product types for customers.

These labels were also printed on our high-resolution HP digital presses.

Label Size: 2.25″ wide x 4.25″ high

Facestock: Gloss Paper

Print method: Digital

Top Coat: Dull spot varnish
Adobe Reader is required to open and view PDF files. This can be downloaded free from adobe.com.
Available Documents
An eye-catching label plus important info. If you have ever looked down the vitamin aisle at your local store, you can see that the different products are branded by color and label design. People need to trust their vitamin and supplement supplier so your label needs to reflect quality as well as contain the important information needed to use the product safely and effectively.

View Product

---

Great bakery labels need to visually enhance the product that they decorate as well as communicate required information like nutrition facts, ingredients and expiration dates. A good label design will include colorful images and use materials like clear film or metallic foils to showcase the product and draw customers near.

View Product

---

Pressure-sensitive adhesive works not only due to its initial tack, but also its slight absorption into the surface of the label substrate. Because the specific characteristics of different substrates can prevent the absorption of adhesive and therefore weaken its adhesion, it is important to consider the substrate material and texture, its shape and its temperature at application.

View Product

---

Heavy-duty labels that look good. Labels used in the automotive parts industry have to be tough to stand up to the harsh environments where they are used. But that doesn't mean they can't look good, too. Bright, colorful consumer parts labels need to add life and value to your packaging while OEM parts need durable […]

View Product

---