Auto Parts Labels
Your automotive replacement parts packaging needs a colorful label to attract a buyers attention. Set your brand apart from the competition with unique, well-designed labels that showcase your products. You can use a wide range of materials to add value and style to your label and Weber can help you decide on the best fit of facestock and adhesive to guarantee that your label looks good and performs correctly.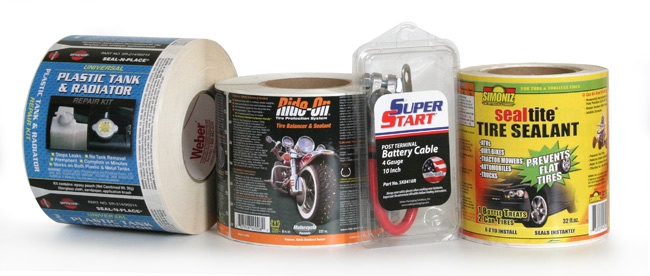 Great looking labels help sell your products.
As in many cases, products are judged and purchased on the strength of their label. And auto parts are no different.
Radiator Repair Kit Label

This label goes on a small clamshell container that holds the part for this product. The right and left side of the label are beveled and, when folded down over the sides of the clamshell, act as a closure device. It also ensures the integrity of the package by acting as a tamper-evident seal.

Label Size: 5.0″ wide x 5.75″ highFacestock: Gloss White

Print method: Flexo

Top Coat: None

Tire Balancer & Sealant Label

The Ride-On Tire Balancer & Sealant label wraps around a round container and is laminated to protect the readability of the text instructions. The unique design features important tire information plus quick-reference measurement call-outs that read in either direction along the sides of the label. That's handy!

Label Size: 5.0″ wide x 6.0″ highFacestock: Gloss White

Print method: Digital

Top Coat: Clear Lamination
---
POP Automotive Label Tips
Materials:
Durable, UL-listed vinyl and polyester label facesheet and adhesive combinations make your label work for demanding, long-term applications.
Overt security and authentication labels that used fracturable materials (destructible labels), messaging adhesives and holographic images keep your brand safe from counterfeiting.
If your package contains petroleum distillate or other liquids, be sure to chose a printing process and lamination to prevent label damage.
Flexible label materials are available in case your product comes in a squeezable or flexible container.
Artwork:
Labels need to be eye-catching to compete on the shelf in automotive after-market stores.
Clear clamshells are popular options and can be labeled easily.
You can use your label as a closure device on a box or clamshell package.
Adobe Reader is required to open and view PDF files. This can be downloaded free from adobe.com.
Available Documents
Pressure-sensitive adhesive works not only due to its initial tack, but also its slight absorption into the surface of the label substrate. Because the specific characteristics of different substrates can prevent the absorption of adhesive and therefore weaken its adhesion, it is important to consider the substrate material and texture, its shape and its temperature at application.

View Product

---

The Weber AP182 is the latest offering by Weber Packaging Solutions of the Pallet Labelling Systems range. It has the reliability and modularity of its predecessor the AL180 but with on board Intelligence and an enhanced User Interface. In the design of this system Weber has focused on reliability, connectivity, efficiency, and versatility. The AP182 System is designed to Label up to three sides of a Pallet simultaneously for specialist pallet identification applications.

View Product

---

HIGH PERFORMANCE CARD PRINTERS

Using the latest in Zebra card-printing technology, the ZXP Series 7 provides high-quality card printing. The ZXP Series 7 printer has an innovative design. It automatically adjusts to the thickness of the card, and ribbon loading is easy.With color coded guides and a clear LCD control panel, it's simple for anyone to use.

View Product

---

Weber's Tamper Evident OEM module is specifically designed to fit neatly into existing Serialisation or Pharma Packaging Systems.

View Product

---