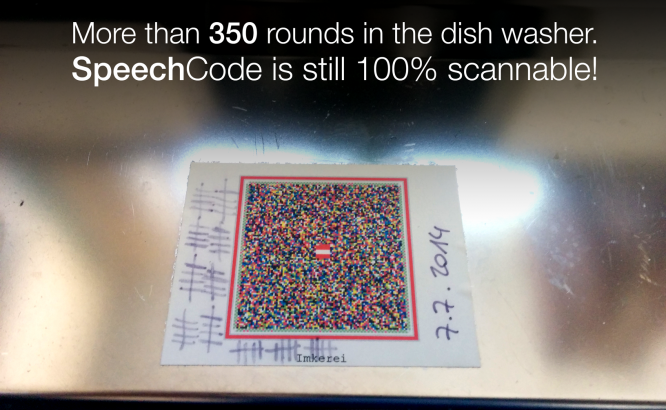 Speech codes are colorful QR codes that can encode voice information of up to 40 minutes 'pre-readout'. Decisive for the correct reproduction of the information is the print quality and accurate color reproduction of the code. For this reason, the company Speech Code tested various label printers and finally decided to purchase two Epson ColorWorks C3500s .
The information to be converted is generated on the company's website using a Speech Code Generator and then printed as a label with a ColorWorks C3500 printer. These labels can then be scanned with a Smartphone and a Speech Code app. The encrypted information is then displayed as text or read via text-to-speech.
Speech Code – printed with Epson
"The codes are composed of very small dots of approximately 0.5 mm in different colors and these carry the information. Therefore the points must be exactly separated from each other so that the scan accurately records them, "explains Richard Hopf, founder and software developer of SpeechCode. The company Speech Code was impressed not only by the brilliance and printing quality, but also by the durability of the prints. A label could still be read out 100% after 350 cycles in a dishwasher. "The ColorWorks C3500 is the perfect solution for us, thanks to its size, speed and quality. There were many reasons for our decision: the colors are clearer and clearer than with other printers. In addition, the ColorWorks also print without complaint on the polypropylene materials we use,
The company prints the speech codes at its headquarters in Vienna and then delivers them to customers all over the world. Large print customers produce their labels using a locally installed ColorWorks C3500 printer. The DURABrite inks of the Epson printers offer very good water and UV resistance and are long-lasting. With a printing speed of around 90 mm / second, the printers also work very productively. The labels are also immediately dry. There is a large selection of label media and sizes for many applications.
Speech codes were developed for the pharma sector in 2013 and were originally intended to provide drug information for people with a reading or vision impairment. However, this technology has also quickly spread in other areas such as tourism in museums and outdoor events. The Speech codes provide every smartphone user with easy access to information on various areas such as medication information, food notices, restaurant cards, event programs and others.
The ColorWorks C3500 and other color printer printers from Epson are available from BluhmWeber Group.