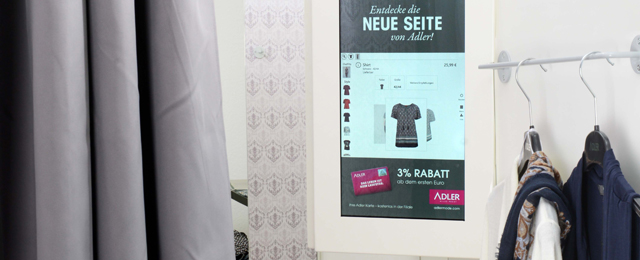 There are fashion brands where the staff is constantly creeping around the dressing rooms to force the customer to ask advice as soon as they stretch one foot out of the door. At the Adler Modemärkte AG, the "Interactive Fitting Room" with RFID technology will save you this time.
The Interactive Fitting Room has been supplemented by a "Digital Signage System", which has been in use for two years now. The digital dressing room is equipped with a 23-inch touch display, with product information such as product images, colors, sizes and cross-selling Articles and availability. Also complete outfit suggestions are displayed to the customer. In standby mode, the Self Service System is a digital signage promotion.
If you still want to communicate with a person, you can use a button to call a member of staff who receives a push notification via an iPod equipped with the InStore Assistant (ISA). Through the ISA, the employee can also call up articles and check availability, outfits and cross-selling items.
Since the cabins are equipped with ultrasonic sensors, the staff can at any time, at a tablet attached in the cab area, read off whether a cabin occupies, free or is only occupied with items of clothing which need to be cleared. It also shows how many pieces of clothing are in the cabin.
Adler is familiar with RFID
RFID technology has been used by the Adler stores since 2015 to  manage their inventory . In addition to the RFID tags attached to the products, Tory's inventory robots are available in many stores. It automatically collects up to 5,000 items per hour via RFID tags, which makes it ten times faster than a human employee. In addition, it can also lead customers to sought products.
Image source and further information: www.sys-pro.de .
PS: RFID labels can also be applied with systems from Bluhm systems .