Zebra ZD410 HC
The ZD410 healthcare model offers all of the features of the standard model plus disinfectant ready plastics and an IEC 60601-1 compliant power supply. Designed for hospital, clinic, laboratory and pharmacy applications, the direct thermal ZD410 helps to protect privacy by leaving no record on a ribbon of what has been printed. The optional 300 dpi print resolution is ideal for printing small labels. The ZD410 healthcare model is currently available for purchase only in North America and the European Union countries. It will be launched in other countries throughout 2016.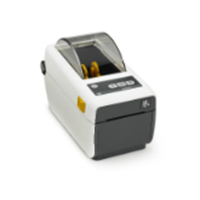 Easy-to-use, reliable printer for space-constrained areas
Ideal for applications requiring an easy-to-use, reliable printer for space-constrained areas, the ZD410 and TLP2824 Plus can be used in a variety of printing applications. One of the smallest in its class, Zebra's 2″ print width printers tuck into the tightest work spaces and print labels, receipts or wristbands with best-in-class print speeds.
Unsurpassed flexibility
When it comes to flexibility, the ZD410 shines. You get virtually every modern connectivity option, from USB, auto-sensing serial and 10/100 Ethernet to the latest wireless options, including 802.11ac Wi-Fi and Bluetooth 4.1. Plus, with the ability to add serial or Ethernet connectivity as well as a peeler and cutter right on site, you can easily upgrade the printer at any time. The TLP2824 Plus comes with standard USB and Serial or Parallel connectivity.
Even easier to use
A new and improved user interface makes the ZD410 easier than ever to use. There are more status icons that make it easy to spot and resolve issues. You can tap an NCF-enabled mobile device on your ZD410 to instantly access Zebra's extensive knowledge base of how-to videos and more. The result? You always have access to the information you need to get your printer back on line quickly, protecting uptime and worker productivity.
Robust 32-bit RISC processor
A robust 32-bit RISC processor increases throughput and productivity with faster formatting and first label out.
PRINT WIDTH
2.2″/56 mmPRINT RESOLUTION
203 dpi/8 dots per mm
300 dpi/12 dots per mmMAXIMUM PRINT SPEED
6″/152 mm per second @ 203 dpi/8 dots per mm
4″/102 mm per second @ 300 dpi/12 dots per mm
MEDIA SENSORS
Multi-position transmissive and full width reflective sensors

COMMUNICATION METHODS
USB 2.0, Bluetooth Low Energy, USB Host RS-232 Serial (option), 10/100 Ethernet (option),Wireless: 802.11ac with Blueto
The Alpha HSM (High Speed Modular) is our new modular compact Labelling System designed with versatility in mind.

View Product

---

Label printer and dispenser for all labelling tasks

The new Legi-Air 5300 from Bluhm Systems is a modular Label printer and dispenser distinguished by its extremely versatile applications and a very high operating run time. In addition, the system offers a high degree of operator-friendliness: the operator is supported in his work by several functions such as service interval or operating condition display.

View Product

---

As in many cases, products are judged and purchased on the strength of their label. And auto parts are no different. Your automotive replacement parts packaging needs a colorful label to attract a buyers attention. Set your brand apart from the competition with unique, well-designed labels that showcase your products. You can use a wide range of materials to add value and style to your label and Weber can help you decide on the best fit of facestock and adhesive to guarantee that your label looks good and performs correctly.

View Product

---

The NX is SATO's universal printer range engineered for the ultimate operator experience, and is skilfully crafted to support new and legacy printing applications across a wide range of verticals that would require a durable and dependable printer for years to come.

View Product

---