EasyGo! Support Ticket
Summary
Report your support tickets in the easiest way with this application. Just enter the priority, the customer related information, the incident details and it's ready to be reported to support.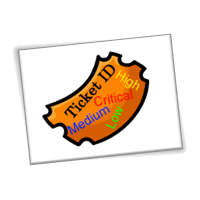 Description
EasyGo!SupportTicket allows to report incidence tickets in a few clicks:
Create a new support ticket (a unique ticket ID will be created automatically).
Optionally, enter customer related data (name, contact data, additional information…)
Finally, upload the reported incident tickets to the host via cradle or WiFi.
---
  Languages
Adobe Reader is required to open and view PDF files. This can be downloaded free from adobe.com.
Available Documents
Labels for the spirits category of alcoholic beverages (gin, vodka, rum, whiskey, bourbon, tequila and brandy) have to look great on the store shelf but also must be eye-catching on the back wall of a bar to get a customer's attention. Clear film labels can let the color of your product show through or can make your design float on the bottle. And clear beverages allow a back label to show through from the front to add to the design or create a three-dimensional effect.

View Product

---

The new Legi-Air 5300 is a modular Label printer and dispenser distinguished by its extremely versatile applications and a very high operating run time. In addition, the system offers a high degree of operator-friendliness: the operator is supported in his work by several functions such as service interval or operating condition display.

View Product

---

Product ID labels on your OEM auto parts have to last the life of the product. And more than likely, that will be a long, tough life cycle. Weber can help you pick the right materials to ensure that your labels continue to work through all kinds of weather and harsh conditions. OEM labels need to retain readability for technical and installation information as well as keeping the products brand image in front of the consumer.

View Product

---

Redefine productivity and reliability with the MC3200 mobile computer, the next generation in the class-leading MC3000 Series, now with more options to meet your needs. Choose the right operating system for your business – Android Jelly Bean or Microsoft Embedded Compact 7. Your choice of our most advanced 1-D laser or 1-D/2-D imager scan engine allows your workers to easily capture barcodes in any condition.

View Product

---