Zebra Symbol LS7808 Scanner
The advanced Symbol LS7808 horizontal slot scanner from Zebra delivers exceptionally high first-pass read rates for faster checkout times
— and better customer service. The Symbol LS7808 represents the latest development in our three decade leadership in designing bar code scanners and our pioneering work in horizontal slot scanner technologies. The omni-directional scan pattern reads the bar code regardless of orientation, eliminating the need to precisely align products to the scanner. Advanced software algorithms reconstruct poorly printed and damaged codes, further increasing performance and speeding customers through the point of sale.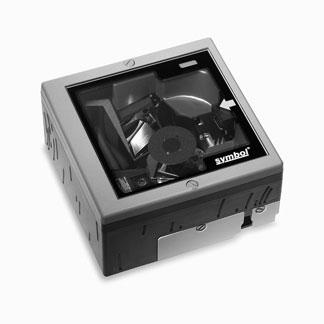 Optimized for demanding, high-turnover retail environments, the Symbol LS7808 is easy to install and easy to use. Even inexperienced cashiers can begin scanning quickly due to the flush mounted, in-counter design and large omni-directional scanning window. Intuitive scanning requires little training; just move the products past the window and go. Large, bulky items in the cart can be scanned quickly and safely using an optional secondary handheld scanner, minimizing the need for customers or cashiers to lift heavy items onto the counter. And integrated Electronic Article Surveillance (EAS) functionality further increases cashier productivity, enabling cashiers to scan once to simultaneously capture the bar code and deactivate the EAS tag.
Onboard support for multiple interfaces, a standard feature, allows you to use your scanner with many different types of POS hosts for seamless
integration now, as well as painless migration to new systems in the future.
Adobe Reader is required to open and view PDF files. This can be downloaded free from adobe.com.
Available Documents
zebra ls7808
The perfect colour printer for GHS and medical device labels.

Now you can dramatically reduce colour label costs, increase operational efficiencies and quickly produce high-quality colour labels with Just in Time ColourTM printing on Epson's high-speed ColourWorks C3500 Inkjet Label Printer. This compact inkjet printer is perfect for in-house on-demand printing of small GHS chemical labels, short run food labels, medical device labelling and more.

View Product

---

A revolutionary design delivers revolutionary productivity gains…one more hour, per worker, per shift.

Businesses looking for the next innovation in warehouse mobility to boost warehouse productivity, have just found it: the rugged TC8000. What makes the TC8000 so special? Everything

View Product

---

Everyone uses sunscreen these days whether at the beach, playing sports outdoors, or at a family picnic. But how do you make your sunscreen product stand out from the hundreds of others on the store shelf? A simple, clean label design on a unique shaped container is the best way to get noticed. Bright colors and large characters for the SPF number are important considerations.

View Product

---

Used directly from it's own mains power supply or remotely from it's rechargeable batteries, the LD70 can dispense and apply labels up to 65mm wide and there is no restriction on the maximum length.

View Product

---