Zebra DS457 SERIES Scanner
Enable high-volume hands-free scanning from the retail POS and airport boarding gate to the manufacturing production line with the Zebra DS457. With comprehensive data capture, your workers can scan virtually any bar code — including 1D, 2D and direct part marks. No matter what type of bar code is presented, or whether it is printed on a paper label, etched into a product or displayed on a mobile phone screen, breakthrough digital imaging technology delivers extraordinary scanning speed. The tiny footprint fits in the most space constrained areas. Workers can choose presentation or trigger-activated mode, providing the flexibility for a wide variety of applications. And while the DS457 can be integrated into a wide variety of products, its sleek design is just as at home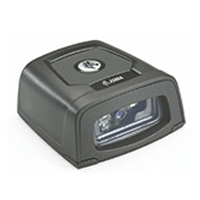 With stunning performance on virtually every bar code — 1D and 2D plus direct part marks — your workers can capture bar codes as fast as they can present items for scanning. There is never a need to pause between scans, protecting productivity.
The tiny DS457 is ideal where a zero or minimal footprint is required. At just 1.15 in. H x 2.3 in. L x 2.44 in. W (2.92 cm H x 5.84 cm L x 6.2 cm W), this device can be mounted just about anywhere — attached to the register or under the counter for a true zero footprint on the retail cash-wrap to a space-constrained manufacturing cell or airport gate.
Your customers are rapidly adopting mobile bar codes — electronic versions of tickets, boarding passes and loyalty cards that can be carried right in the mobile phone. Since the DS457 can read bar codes on mobile phone and computer displays, you're ready for this next generation bar code, protecting customer convenience, customer service quality and employee productivity.
The DS457 can be used as a standalone scanner or integrated into the most space-constrained products to bring world-class scanning performance to mobile computers, handheld scanners, self-service kiosks, medical and diagnostic instruments, lottery terminals and more. Integration into your product designs is easy — there is no optical, mechanical or electrical engineering required. And in the event you already have a Zebra Miniscan deployed today, the common interface allows you to simply swap scanners to cost-effectively boost scanning performance and quality — no re-tooling or redesign of the installation area are required.
Adobe Reader is required to open and view PDF files. This can be downloaded free from adobe.com.
Available Documents
zebra ds457
The Symbol LS1203 handheld scanner from Zebra delivers high quality laser scanning, user-friendly ergonomics and durability at an affordable price. Designed to meet the needs of small businesses, the Symbol LS1203 provides the performance and features needed to significantly reduce data entry errors and boost productivity day in and day out in gift shops, boutiques, sporting goods, jewelers, video stores, florists and other small local retailers. Easy and comfortable to use, this high-value cost-effective scanner offers the reliability and investment protection that have made Zebra the global leader in handheld bar code scanning.

View Product

---

Barcode scanning at patient bedside is crucial in preventing deadly errors in medication administration and specimen collection. Now, you can put wireless enterprise-class barcode capture in the hands of every nurse and lab technician with the disinfectant-ready CS4070-HC. Small enough to be carried at all times, it can be tucked in a pocket or worn on a lanyard. One press of the dedicated pairing button instantly connects the CS4070-HC to Bluetooth-enabled in-room computers, workstations-on-wheels (WOWs), tablets and more. And with superior scanning technology, healthcare workers can instant capture virtually any barcode, in any condition —1-D or 2-D, electronic or printed.

View Product

---

Our newly developed printhead protection system protects the ink head from dust to ensure reliable, continuous printing. In addition, Epson's advanced DURA Brite pigment inks deliver outstanding stability and resistance to water, chemicals, fading and smudges. KEY FEATURES GHS label printer Ideal for large labels including large format drum and chemical labeling BS5609 certified Complies […]

View Product

---

The advanced Symbol LS7808 horizontal slot scanner from Zebra delivers exceptionally high first-pass read rates for faster checkout times
— and better customer service. The Symbol LS7808 represents the latest development in our three decade leadership in designing bar code scanners and our pioneering work in horizontal slot scanner technologies. The omni-directional scan pattern reads the bar code regardless of orientation, eliminating the need to precisely align products to the scanner. Advanced software algorithms reconstruct poorly printed and damaged codes, further increasing performance and speeding customers through the point of sale.

View Product

---