Zebra LI4278 Bar Code Scanner
The LI4278 takes 1D bar code scanning to the next level, allowing workers to scan faster and farther. Workers can capture virtually any 1D bar code, including the typical bar codes that are printed on paper labels; electronic bar codes displayed on the screen of a mobile phone, tablet or computer that allows retailers to easily process loyalty cards, mobile coupons and more; and the high density (HD) bar codes commonly used in electronic component manufacturing. 100 percent UPC bar codes can be captured from near contact to over 30 in./76.2 cm away, while 200% UPC codes can be scanned at 55 in./139.7 cm away.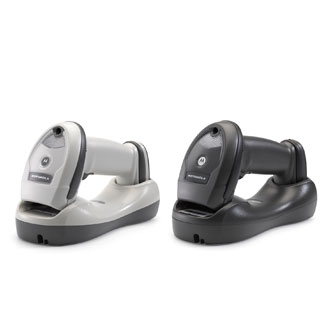 Bluetooth® frees workers from cords, allowing cashiers to easily scan items inside and outside of the cash wrap. In addition, Bluetooth v2.1 with EDR provides better encryption for improved security; better wireless performance; better energy management to preserve power for a full shift and easy pairing with the host device.
A patent pending single circuit board improves reliability by eliminating interconnections. Superior battery power management delivers the largest number of scans per battery charge to support scan intensive applications. You can use it in dusty and wet environments. The scan line is easy to see outdoors in bright sunlight as well as indoors in dim lighting. It can survive drops to concrete. And both cradles can handle over a quarter million insertions.
The LI4278 provides a positive return on investment by utilizing the same existing cradles and accessories as its cousins, the LS4278 and DS6878. Current investments are preserved, yet you can easily migrate to the latest in scanning technology.
Adobe Reader is required to open and view PDF files. This can be downloaded free from adobe.com.
Available Documents
LI4278 BarCode
Weber's long experience with thermal-transfer print technologies and compatible label materials has given us a broad understanding of exactly which ribbon is best suited for any application. Resin ribbons are suitable for very special applications. Each ribbon is formulated to print high-density bar codes, text and graphics for product identification, work-in-process, inventory control, shipping and other applications.

View Product

---

Our Alpha Compact Range of Labelling Systems, Compact, Lightweight, Durable and Easy to Use.

View Product

---

FEATURES

Label and Wristband Printing
High Speed Printing
Printing Resolution of 203 / 305 / 609 dpi
Anti-microbial Casing
Small, Compact, High
Throughput Design
Easy Media Loading and Maintenance
Wireless Connectivity
RFID Ready

View Product

---

The Markoprint X1JET LX inkjet operates LX Class printing technology and is small, compact, and cost-effective system. It has a single housing unit constructed of robust milled and anodized aluminium that houses both the print head and the print controller. High-resolution prints are possible thanks to the printhead's two nozzle row. The ink type is detected, and the level of ink filling is stored using its internal memory. The X1JET LX has an integrated picture sensor that automatically starts printing.

View Product

---