Zebra MP6000
Everyone knows first impressions are important. But in retail, last impressions can count even more. POS lanes are your last touchpoint with your customer — a touchpoint that can make or break a sale and the customer experience. Keeping checkout lines moving couldn't be more important — or more challenging. Manufacturers are using new GS1 DataBar and 2D bar codes to improve inventory management throughout the retail supply chain. Customers are rapidly adopting electronic bar codes that represent loyalty cards, discount coupons and gift cards for their value and convenience, since they can be stored on the one device they have with them at all times — their mobile phones.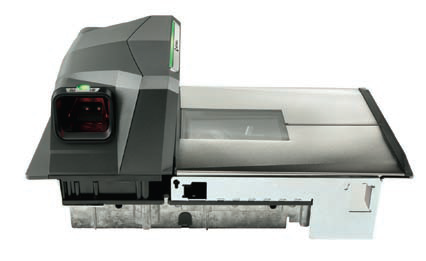 Unsurpassed scanning performance – Scans bar codes at a higher rate than any laser bioptic scanner available today with Zerba's industry leading, proven imaging technology
Capture any bar code – Auto-discriminate reading of 1D and 2D bar codes: on paper labels — even if they are damaged, on plastic loyalty or gift cards or on the screen of a mobile phone
Minimize breakdown and maintenance costs — there are no moving parts in the scan engine, reducing power consumption by at least 30 percent; its capacitive buttons won't wear out
Customizable to meet the needs of your store and your customers – With six ports, you can easily add new capabilities, such as a scale, a Customer Side Scanner to allow customers to scan bar codes on their mobile phones and their loyalty cards, handheld scanners and EAS devices, plus expandability for future requirements such as RFID
Unprecedented management capability – Complimentary management software enables remote management of the entire scanner solution — scanner, scale and all attached peripherals Get your pos lanes ready for the customers of today and tomorrow with the MP6000 multi-plane scanner
Adobe Reader is required to open and view PDF files. This can be downloaded free from adobe.com.
Available Documents
MP6000_SS
FEATURES

Antimicrobial housing
User-friendly Operation and Maintenance
Print resolution 203/305 dpi
RFID Ready!
Prints labels , Receipts, tags and Bracelets

View Product

---

Brands and high-quality products need suitable labels to represent the image and reflect the branding. Weber Marking Systems is geared for the production of high-quality primary and pre-printed labels for any application.

View Product

---

The layout of the labels is created either using label software or through direct programming via a text editor on the PC. Label formats, fonts and graphic data, serial data and database contents are saved or imported on the CF memory card, USB flash drive or the internal IFFS printer memory. Only variable data is sent to the printer via keyboard or host computer before being printed out. Data from a barcode scanner or a balance can also be received by the printer.

View Product

---

The new Legi-Air 5300 is a modular Label printer and dispenser distinguished by its extremely versatile applications and a very high operating run time. In addition, the system offers a high degree of operator-friendliness: the operator is supported in his work by several functions such as service interval or operating condition display.

View Product

---