Weber Label Printers and Dispensers
For manufacturers, wholesalers, retailers and offices, investing in high-quality and efficient label printers to have on the premises can bring significant long-term cost and time savings for your business. Up-to-date, accurate and fast labelling of products is essential in today's production and business world. With such a depth of experience and broad expertise, Weber Packaging Solutions is your best choice for label printers and label applicators in the UK & Ireland.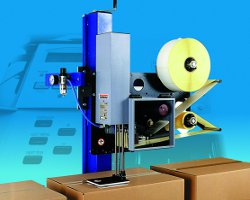 Label printers from Weber Packaging Solutions to meet all your label printing needs
Label printer and dispensers are used for the fully automatic printing and positioning of labels on products, trays, packaging and pallets. We can work together with you to draw up your own customised labelling system. After all, each production process has its own particular features, such as line speed, cycle time, data transfer rate from your PC system, resolution requirements, label size, content, position, etc.
It seems like such a simple thing, but the importance of accurate and quality labelling is so often underestimated. Whatever your label printer requirements – whether you're looking for address label printers or industrial pallet label printers – Weber Marketing Systems has the solutions for you.
We can provide tailored label solutions for all shapes, sizes and surfaces. Furthermore, we ensure that all of our label printers are programmed to print labels which adhere to the EU marking standards for your industry.
Your label printer options – many functionalities
Label printing and dispensing systems are fully functional for automatic label printing and positioning of the labels on merchandise, containers, packaging and pallets. Designed modularly, our label printing systems are typically comprised of a dispensing and print module, label rewinder and unwinder, as well as numerous applicators.
As a result, our systems are able to cover a broad range of industrial applications. With over a 1,500 modular design options, our label printer systems can guarantee:
top print quality and accuracy
clear legibility with a quick and precise application.
All printing modules can be adapted to meet the requirements of their usage. We offer an extensive choice of print head solutions to meet to the application surface – for instance in the case of cylindrical products or sack labelling. Specific print applications can be used to ensure label reliability in the case of barcode labels – paramount for successful warehousing and retail or wholesale activities.
Do you have any questions about label printers and dispensers?
Adaptions can also be made to optimise printing width and processing speeds – in the case of a manufacturer's production line process. Options are also available for printing items of difference heights and distances, with a number of sensor controlled dispensing stroke possibilities.
Printing modules from leading manufacturers including Zebra, Sato, Avery and Datamax can be selected, with print technologies including thermal transfer or thermal direct options. Here, there are multiple options to choose from regarding print resolution and print speed for your label printing.
Customised label printer and applicator systems by Weber Marking Systems
With the countless system variations available, we can work with you to build a customised labelling system to suit your industry and processes. Each year we successfully install in excess of 3,500 dual-purpose systems, combining label printing and application across a broad spectrum of industries, with sack labelling, keg labelling, medical product labelling, RFID labelling and container labelling – just to name a few. Time after time our label printers ensure high performance, robustness and versatility.
Adobe Reader is required to open and view PDF files. This can be downloaded free from adobe.com.
Available Documents
Enable high-volume hands-free scanning from the retail POS and airport boarding gate to the manufacturing production line with the Zebra DS457. With comprehensive data capture, your workers can scan virtually any bar code — including 1D, 2D and direct part marks. No matter what type of bar code is presented, or whether it is printed on a paper label, etched into a product or displayed on a mobile phone screen, breakthrough digital imaging technology delivers extraordinary scanning speed. The tiny footprint fits in the most space constrained areas. Workers can choose presentation or trigger-activated mode, providing the flexibility for a wide variety of applications. And while the DS457 can be integrated into a wide variety of products, its sleek design is just as at home

View Product

---

Suitable for difficult environmental conditions and locations with high hygienic standards, as in the food, pharmaceutical and chemical industry. With mounting brackets for desktop or wall-mount installation.Integrated power supply unit, sealed cable glands for all cable connections.

View Product

---

Special labels by Weber Marking Systems meet the most diverse of requirements and have numerous specialized features, depending on their purpose.

View Product

---

ULTRAPLATE is the standard resin ribbon from Weber. It is dedicated to
applications requiring a perfect printing quality and excellent mechanical
resistances. Its high versatility (it also prints on coated papers) and its
performances (sharpness, printing speed) have resulted in making
ULTRAPLATE a market reference.

View Product

---