Weber LA4050BB – Blow Box High Speed Printer Applicator
Weber's LA4050B Series Electric Labelling Print and Apply automated labeling systems feature industry-leading smart technology that use sensors to reduce label application complications, ensuring a one-to-one label-product match. As the leading all-electric Label Printer/Applicator manufacturer on the market, our pressure sensitive labeling systems enable customers to completely replace conventional pneumatic systems with semi-electric and or a fully electric option that controls the label with pinpoint accuracy in side, top, bottom and corner-wrap applications throughout the packaging process.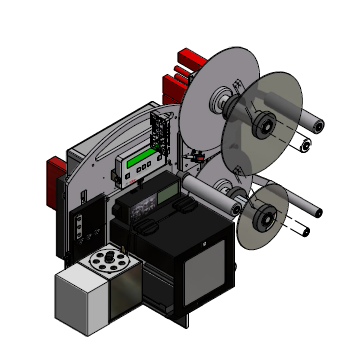 The Weber LA4050B BB (Blow Box) is an efficient High Speed Printing and Label Application System being a High throughput alternative to some traditional pneumatic Tamp Blow Labelling Systems. Traditionally used in High Speed Mailing Solutions the Blow Box System is capable of Printing and Application throughput in excess of 250 labels per minute. The LA4050B BB is predominantly used in the application of pressure sensitive labels on the top and sides of delicate or fragile substrates without making any contact unlike Direct Tamp Systems. The system is designed for use with a variety of Print Engines such as Sato, Zebra, Datamax etc. from 203dpi to 600dpi Printing Resolutions. Typically used for Top and Side Labelling the Weber LA4050B BB can be used in a variety of Industries from Logistics to Mailing and High Speed Packaging Systems. 
Like all Weber Labelling Systems the unit is modular in design with easy to remove unwinder, rewinder, and Print Engine in the event of a critical component failure. This provides significant benefits for 24/7 operation where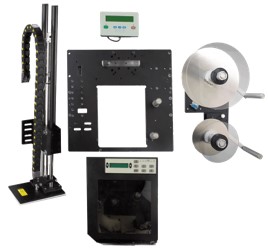 downtime is a cost critical factor. The choice of Print Engines add to the versatility of the System and provides label size ranges from 50mm x 40mm to
100mm x 100mm at a speed of up to 250 labels per minute. The system has the same interface options (Alarm System, Error Control, Volt Free Output,  M12 connection for Sensors etc.) as some of our other high end systems but with a low base cost. The all new Weber controller can manage the functions of the Labelling System with ease and simple to use touchscreen GUI. 
The system has a pivoting U-Arm which allows rotation of the system by 360 degrees allowing the Labelling System to Print and Apply a label to any side of a product including Base Labelling of Products. The system can be mounted on its own individual stand, integrated directly into a packaging machine as part of an automated packaging line or mounted directly on one of our many handling systems providing a turn key solution to your particular Labelling requirements.
Other Benefits include:
Low Total Cost of Ownership
High accuracy Labelling
Versatility and Flexibility in Labelling Configuration
Easily adaptable to changes in Production
Low Running Costs
RFID Upgradeable
High Throughput 24 / 7 Operation
Available in 4″ wide and 6″ Wide Print Widths
UK Service and Support Network
Additional Options include:
Low label Warning System
Protective Enclosure for Harsh Environments
Barcode Scanning Module
RFID Print Engine
Vision System 
Choice of Product Detection Sensors
Bespoke Handling Systems available
FEATURES

Printing Labels and bracelets
Print Resolution 203/305 dpi
Antimicrobial housing
Small, compact
Easy maintenance

View Product

---

This Weber exclusive provides high-resolution printing and high-speed operation combined with the highly-accurate tamp-blow method of label application. This allows you to add a method of labelling your products quickly and efficiently on your production line.

• Choose from a wide range of 203, 300 and 600 dpi print engines
• Capable of handling print speeds up to 16 ips
• Numerous I/O's ease interfacing with external devices
• Monitor operation via a web browser
• Available with RFID capability

View Product

---

ZEBRA ZT600 SERIES – INDUSTRIAL BRAWN FOR EVERY CHALLENGE

Advancing the legacy of the industry-leading Xi Series, the Zebra ZT600 Series printers combine rugged durability and exceptional performance on a user-friendly, future-ready platform.

To keep your critical operations running smoothly, you need high-performance industrial printing systems that can stand the test of time, both physically and technologically. Zebra's ZT610 and ZT620 advance the legacy of their industry leading Xi Series predecessors, offering next-generation operational visibility, control and adaptability to meet your evolving needs—all with the rugged durability and 24/7 reliability you expect from Zebra.

View Product

---

Your label says everything about your craft beer. So make sure your label looks good – no flagging, crooked application or moisture damage. People judge your product by its appearance and make their purchase decision accordingly. Craft beer labels need to look unique, setting you apart from the competition. You take pride in your brewing, giving extra care to all the steps that make your product the best. Your label needs to be a reflection of all that hard work and pride.

View Product

---