Weber LA4050WO – Wipe On Printer Applicator
The Weber 4050WO is a simple low cost Wipe on label applicator which comes with a choice of Print Engines dependent on the customers requirements. This system is suitable for Top, Bottom, or Side Labelling of Flat Surfaces with a choice of Dispensing Beaks to cater for any Labelling Challenge. The System is easy to integrate into an existing Line or as a Standalone Labelling System mounted on its own Stand.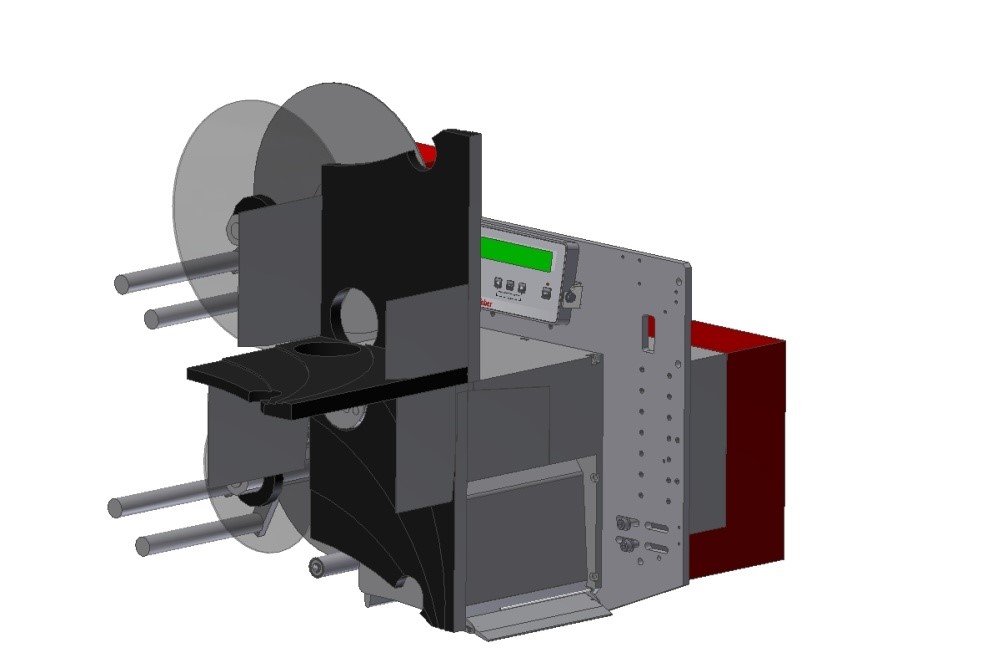 The Weber LA4050 WO Provides a cost effective and efficient means of Printing and Application in one Sequence providing up to a 25% increase in throughput when compared to some Tamp Blow Labelling Systems. The system is designed for use with an Avery Print Engine with its own integrated dispensing beak but also comes with an optional additional Dispense beak permitting the user to fit other Print Engines such as Sato, Zebra, Datamax etc. in 203dpi and 300dpi Printing Resolutions. Typically used for Top and Side Case Labelling the Weber 4050 WO can be used in a variety of Industries from Logistics and Warehousing to Food and Beverage.
It is primarily designed with simplicity in mind and provides a robust reliable means of Labelling without the need for air supply like other systems currently on the market. Despite its basic design it provides the same high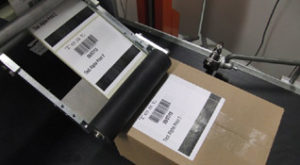 speed Printing and Application with label ranges from 10mm x 5mm up to 180mm x 800 mm at a speed of up to 250 labels per minute (dependant on label size). The system has the same interface options (Alarm System, Error Control, Volt Free Output,  M12 connection for Sensors etc.) as some of our other high end systems but with a low base cost. The basic controller can manage the functions of the Labelling System with ease and simple to use menus. 
The system has a pivoting U-Arm which allows rotation of the system by 360 degrees allowing the Labelling System to Print and Apply a label to any side of a product including Base Labelling of Products. The system can be mouunted on its own individual stand, integrated directly into a packaging machine as part of an automated packaging line or mounted directly on one of our many handling systems providing a turn key solution to your particular Labelling requirements.
Other Benefits include:
Low Total Cost of Ownership
High accuracy Labelling
Versatility and Flexibility in Labelling Configuration
Easily adaptable to changes in Production
RFID Upgradeable
High Throughput 24 / 7 Operation
Available in 4″ wide and 6″ Wide Print Widths
Additional Options include:
Low label Warning System
Protective Enclosure for Harsh Environments
Barcode Scanning Module
RFID Print Engine
Vision System 
We made the best better.

Datamax-O'Neil's I-Class revolutionized the barcode printer industry with its award winning modular design, field installable options and rugged reliability.

View Product

---

The advanced Symbol LS7808 horizontal slot scanner from Zebra delivers exceptionally high first-pass read rates for faster checkout times
— and better customer service. The Symbol LS7808 represents the latest development in our three decade leadership in designing bar code scanners and our pioneering work in horizontal slot scanner technologies. The omni-directional scan pattern reads the bar code regardless of orientation, eliminating the need to precisely align products to the scanner. Advanced software algorithms reconstruct poorly printed and damaged codes, further increasing performance and speeding customers through the point of sale.

View Product

---

An eye-catching label plus important info. If you have ever looked down the vitamin aisle at your local store, you can see that the different products are branded by color and label design. People need to trust their vitamin and supplement supplier so your label needs to reflect quality as well as contain the important information needed to use the product safely and effectively.

View Product

---

The innovative Zebra CS3000 Series enables enterprises to easily implement 1D laser scanning where either mobility or the cost and
size of a traditional scanning device is an inhibitor. Two models provide the flexibility for use in many applications. The CS3000 can be utilized in standalone mode for the batch scanning of bar codes, while the CS3070 offers batch mode as well as real-time bar code data transmission to a host application via a wireless Bluetooth® connection to smartphones, laptops and more. The result is a new level of affordability for 1D scanning — and the ability to streamline, error proof and simplify many business processes.

View Product

---