Weber LA 4050 P
Two-sided labeling LEGI-AIR 4050 P allows the labeling of two adjacent sides of a pallet. Up to 7 pallets can be processed per minute, depending on the application. Variable data (e.g. text, barcode or logo) are printed precisely and legibly on the labels immediately before the application procedure. The labels are subsequently applied using swing-arm […]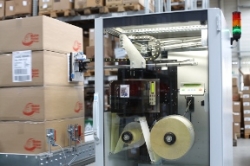 Two-sided labeling
LEGI-AIR 4050 P allows the labeling of two adjacent sides of a pallet. Up to 7 pallets can be processed per minute, depending on the application. Variable data (e.g. text, barcode or logo) are printed precisely and legibly on the labels immediately before the application procedure. The labels are subsequently applied using swing-arm technology with diagonal bar. This patented process is very safe: the pallet rolls back out in the event of a power failure, for example. If, in doing so, it should come into contact with the extended applicator arm, the bar automatically pushes the arm out of the way.
Flexible
Products of varying dimensions can be labelled due to the large swing-arm radius of 400 mm. Thanks to the Tamp-Blow, LEGI-AIR 4050 P can also flexibly label boxes, crates and other types of packaging, including convex or concave-shaped product surfaces. Labeling is possible in any conceivable installation position due to the symmetrical design. The compact dimensions of 1000 x 800 x 1200 mm (L x W x H) allow easy integration into existing production environments.
Ease of servicing
LEGI-AIR 4050 P has a built-in service interval counter which informs the user in good time of the next service date. Easy, fast replacement of individual components, due to wear for example, is also a practical feature due to the modular construction. The print module, for example, can be replaced with only 5 screws and 2 cables.
Technical specifications:
Printing technology
Thermal transfer or direct thermal
Print resolution
8 dots/mm (203 dpi)
12 dots/mm (300 dpi)
24 dots/mm (600 dpi)
Print speed
Up to 400 mm per second
Tamp sizes (mm)
Tamp-Blow standard of 150 x 210 to 160 x 250 mm, label lengths must be limited in accordance
with label quality, longer or smaller labels are possible using special tamps
Label gap
Minimum 3 mm
Label roll
300 mm diameter, up to 450 running meters, core 76 mm (3″), outside winding (optional inside winding)
Data interfaces
All common interfaces (see print modules leaflet for details)
Service interval
According to interval display
Positional accuracy of applied labels
Up to ± 2 mm on stopped product
Labeling security
2 product sensors for monitoring labeling area
2 optical sensors and 1 inductive sensor for monitoring product surface
Analogue pressure monitoring sensors
Label presence check on tamp
Patented labeling process
Patented diagonal bar as passive protection for tamp
Steel plate housing for protection from ambient effects
Print applicator activation
Light barrier, PLC output
Alarm equipment
Standard: error reporting display controller, digital I/O and 3-colour alarm lamp
Application capacity
Up to 7 pallets per minute without stopping product, the application capacity is dependent
on conveying speed, text change and stroke
Max. conveying speed on front labeling
18 m/min
Max. conveying speed on rear labeling
15 m/min
Compressed air consumption
2.1 l per application cycle, dependent on label size and setting
Compressed air connection
6 bar, the compressed air must be clean, dry and oil-free
Dimensions (L x H x W)
1000 x 1200 x 800 mm
Weight
From 300 kg (depending on model)
Electrical connection
90 to 263V AC, 50/60 Hz, 5 amps
Ambient conditions
Temperature: 10°C to 35°C, 15 to 85% relative humidity, non-condensing
(see separate leaflet on print modules).
Accreditation
CE-mark
All technical specifications are dependent on the print modules used (see separate leaflet
on print modules).
Choice of options:
RFID labeling
Test scanner
System base
IPC in protective housing
Legitronic® label printing and design software
A new system for the classification, labelling and packaging of substances and mixtures was introduced throughout Europe on 20th January 2009, when the European GHS regulation (EC) No. 1272/2008, also referred to as CLP regulation, entered into force. The new EU directive also affects labelling requirements. New pictograms in the shape of a red diamond with a white background are replacing the orange ones in the EU.

View Product

---

Used directly from it's own mains power supply or remotely from it's rechargeable batteries, the LD70 can dispense and apply labels up to 65mm wide and there is no restriction on the maximum length.

View Product

---

Weber's LA4050B Series Electric Labelling Print and Apply automated labeling systems feature industry-leading smart technology that use sensors to reduce label application complications, ensuring a one-to-one label-product match. As the leading all-electric Label Printer/Applicator manufacturer on the market, our pressure sensitive labeling systems enable customers to completely replace conventional pneumatic systems with semi-electric and or a fully electric option that controls the label with pinpoint accuracy in side, top, bottom and corner-wrap applications throughout the packaging process.

View Product

---

The TC51/TC56 touch computer is sleek and beautiful—yet smart, rugged and hardworking. Designed for the new business world, users get a rugged industrial design that looks and feels like the most popular pocketable consumer-style smartphones to meet worker expectations, along with the enterprise-class features, power, security and manageability a business requires.

View Product

---