Model 4300e Pro-Apply All-Electric Label Printer-Applicator
Weber's economical Model 4300e Pro-Apply is an electrically-operated printer-applicator that features the functionality often limited to higher-duty pneumatic systems.
The result is a versatile in-line system that combines high-quality label printing and application that ensures fast, accurate pressure-sensitive labelling – and now it's available without the need to use externally-supplied compressed air.
• Applies labels up to 6″ wide x 6″ long at up to 12 ips
• Prints text, bar codes and graphic images @ 203, 300 or 600 dpi
• Direct-tamp label application
• Accurate labeling to within ±0.03″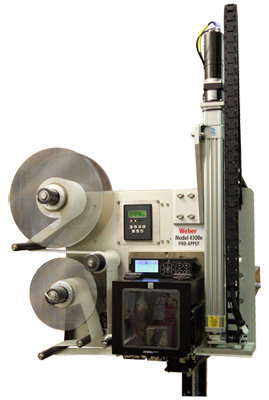 Model 4300e All-Electric Pro-Apply Label Printer-Applicator
The Model 4300e Pro-Apply system is designed and engineered by Weber and is assembled in our own U.S. manufacturing facility. Each unit is equipped with an on-demand, thermal/thermal-transfer print engine from Datamax, SATO or Zebra to produce 203-, 300- or 600-dpi text, bar codes and graphic images at speeds up to 12 ips.
Labels up to 6″ wide and 6″ long are printed in a cost-efficient, next-out mode, and then are instantly applied to cartons or products on the production or packaging line.


Utilising all-electric operation and the direct-tamp method of application, a printed pressure-sensitive label is automatically peeled from its liner and is retained by vacuum on the applicator's tamp pad. Unlike most conventional print-apply systems, the system's vacuum is created using electrically-operated fans instead of external compressed air.
The spring-loaded pad is extended up to 12.5″ using an electric actuator travelling at 35″ ips. As the tamp pad approaches the product, a pad-mounted sensor detects the product and slows the actuator to gently apply the label to the package.
Standard features include durable anodized aluminium and stainless steel construction, an integrated user interface with LCD display, numerous inputs/outputs to facilitate the use of a product sensor or other optional accessories and stepper motor-driven rewind.
In addition, system components are readily accessible to ease service, and all units feature zero-downtime connectivity to ensure uninterrupted production.
Options include a stack light and an adjustable stand that enables the system to be oriented for top, bottom or side application.
The Model 4300e Pro-Apply operates with Weber's exclusive Legitronic® software, which simplifies label formatting, editing and printing.
Weber also manufactures a wide variety of stock and custom pressure-sensitive labels for variable imprinting as well as providing application-specific ribbons for thermal-transfer operation.
Adobe Reader is required to open and view PDF files. This can be downloaded free from adobe.com.
Available Documents
4300
Summary

Validate and control the authenticity of the tickets sold on site with this straight-forward yet powerful application. Check Theater, cinema, and sport event tickets… virtually any kind of ticket containing a barcode can easily be checked with this app. Combining this app with another app from EasyGo!, EasyGo! TicketsSale offers an entirely ticket validation cycle; sell-print-scan-validate tickets.

View Product

---

Everyone knows first impressions are important. But in retail, last impressions can count even more. POS lanes are your last touchpoint with your customer — a touchpoint that can make or break a sale and the customer experience. Keeping checkout lines moving couldn't be more important — or more challenging. Manufacturers are using new GS1 DataBar and 2D bar codes to improve inventory management throughout the retail supply chain. Customers are rapidly adopting electronic bar codes that represent loyalty cards, discount coupons and gift cards for their value and convenience, since they can be stored on the one device they have with them at all times — their mobile phones.

View Product

---

Versatile, Four- and Six-Inch-Wide – OEM Print Engines PAX 4™ print engines deliver superior performance and reliability. The 110PAX4 and 170PAX4 print engines are the performance leaders in mission-critical print-and-apply applications. With enhanced connectivity, including wireless and Ethernet, along with all-metal construction

View Product

---

Markoprint X1Jet HP Handhold A powerful mobile handheld inkjet printer for use in multiple locations The Markoprint X1JET HP HandHold inkjet printer is a versatile, mobile, industrial, small character inkjet printer. The X1JET HP HandHold is battery operated and will print high resolution text and images without being fixed to a production line. […]

View Product

---