QuickScan L QD2300
The QuickScan L QD 2300 is an entry level laser scanner. The QuickScan reader series is Datalogic's value line of general purpose handheld data collection products. The QuickScan L scanner provides a simple solution for those who prefer laser scanning technology and need to read bar codes at normal distances. The QuickScan L range has […]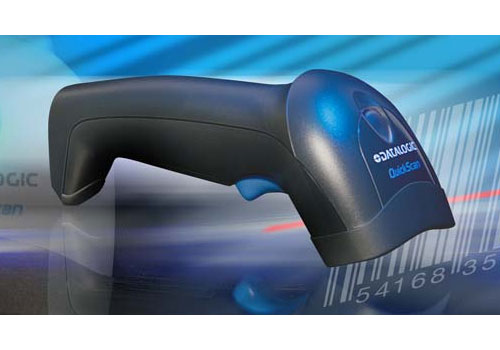 The QuickScan L QD 2300 is an entry level laser scanner. The QuickScan reader series is Datalogic's value line of general purpose handheld data collection products. The QuickScan L scanner provides a simple solution for those who prefer laser scanning technology and need to read bar codes at normal distances. The QuickScan L range has a wider than usual scan angle which provides the ability to read a longer bar code from a closer distance.
The QuickScan L QD 2300 is perfect for use in retail and office environments due to its small, lightweight and ergonomic design. The QuickScan LQD 2300 has a quick reading performance and is capable of reading a wide range of symbolgoies including the majority of 1D codes plus GS1 DataBar linear codes.
While the QuickScan L QD 2300 is great value it has been designed with durability in mind, not only that but QuickScan has also been designed so that a replacement window can be ordered to replace the widow without having to send the scanner away for repairs. This ensures that the QuickScan L QD2300 is always available for use.
Features
User replaceable scan window
Multi-interface solution for the most popular interfaces
Supports GS1 DataBar™ linear codes
Water and Particulate Sealing Rating: IP42
Drop resistance to 1.5 m / 4.9 ft
20 kV Electrostatic protection (air discharge)
EASEOFCARE Service Plans offer a wide range of service options to protect your investment, ensuring maximum productivity and ROI
Wider scan angle for longer code reading
Adobe Reader is required to open and view PDF files. This can be downloaded free from adobe.com.
Available Documents
QuickScan L QD2300
Our special manufacturing capabilities and broad selection of matte and gloss varnish coatings and laminates help improve the appearance and long-lasting performance of your labels.

View Product

---

The Symbol LS2208 handheld scanner from Zebra offers high performance scanning at a moderate price point. From the retail point-of-sale and backroom to the patient bedside or school book checkout, the Symbol LS2208 provides fast, reliable scanning in a durable, lightweight form factor, delivering enhanced productivity and efficiency while reducing your total cost of ownership (TCO). With aggressive scanning capabilities and a wide working range, the Symbol LS2208 accurately captures data fast, helping employees work quickly and efficiently. And you'll be up and running fast, because the Symbol LS2208 is easy to deploy and use, thanks to its plug-and-play installation and intuitive, user-friendly design, which requires little or no training. Plus the ergonomic, balanced form factor reduces user fatigue to maximize user comfort.

View Product

---

The LI4278 takes 1D bar code scanning to the next level, allowing workers to scan faster and farther. Workers can capture virtually any 1D bar code, including the typical bar codes that are printed on paper labels; electronic bar codes displayed on the screen of a mobile phone, tablet or computer that allows retailers to easily process loyalty cards, mobile coupons and more; and the high density (HD) bar codes commonly used in electronic component manufacturing. 100 percent UPC bar codes can be captured from near contact to over 30 in./76.2 cm away, while 200% UPC codes can be scanned at 55 in./139.7 cm away.

View Product

---

The Gryphon family are successfully associated with their premium line of Datalogic ADC's general purpose handheld data collection products. The Gryphon is ideally partnered with the Healthcare industry but has the flexibility to work across other industries. The Gryphon is extremely versatile and durable.  The Gryphon is the ultimate solution for applications where mobility is […]

View Product

---