Portable Print & Ship
The Barcode Reader – efficiency in the form of a device
The "Portable Print & Ship" solution utilises a new kind of small handheld reader. The device can scan barcodes and it also contains a read/write unit for tags.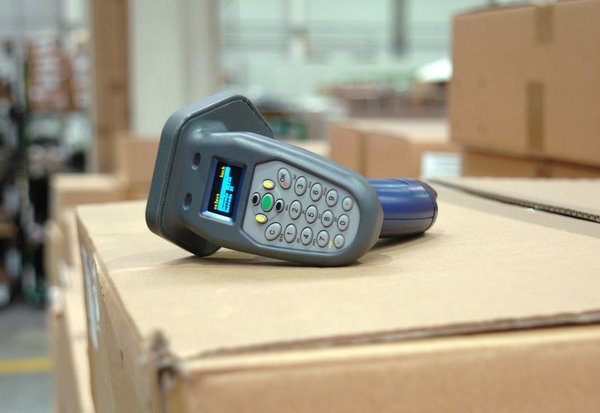 Barcode content is automatically converted into an EPC (Electronic Product Code) and the data is immediately written to a tag, without a printing unit being required. "Handy Tags" ensure the process is both rapid and uncomplicated. In order to ensure satisfactory performance in later processing, even when using on metal surfaces and products containing liquids, "Handy Flag Tags" are available, equipped with a special backing paper. No additional equipment is necessary: the label can later be simply folded by hand so that the portion containing the RFID tag is raised slightly above the surface. This significantly improves the read performance.
Easy transmission of product details
The innovative RFID technology facilitates the process of identifying products and acquires all the necessary information regarding the different products. Even with difficult 'external' conditions including metallic surfaces, the chip-based system allows for an easy transmission of product details. The 'main piece' of this technology consists of a transponder – a chip which stores the data, also known as the Electronic Product Code (EPC).
This code and all the included information can then be read by barcode readers. Today these handy devices are no longer simply readers, but are now also multifunctional with the capability to write new tags. With these practical readers it is just as easy to scan barcodes and write or read tags as it is to print new ones at the same time. Here, the device makes work processes easier and improves time efficiency. In comparison to only a few years ago when everything had to be registered, counted or read manually, the new generation of readers, together with technologies like RFID, have really made logistical processes a lot simpler.
How does it work?
The former original barcode system is being gradually complemented by this new technology. Regardless, the Weber Barcode Reader is designed and able to manage both of these systems. This device is fully equipped for both barcode reading and the new RFID technology.
When the barcode is read it directly transforms this information into an EPC. If required, the obtained data can then be instantly printed onto a tag. The practical Barcode Reader substitutes an additional printer when tags are needed immediately. Just one device combines all functions which are necessary for efficient work processes in logistical and similar businesses, even though a professional bar code label printer is typically recommended for the general printing of labels and tags.
Special features of the barcode reader
In addition to the already mentioned functions of the reader, there is a feature which can be used to manage more 'extreme' cases. 'Handy Tags' ensure that a smooth workflow is guaranteed in all circumstances. Products containing liquids or with metal surfaces are sometimes difficult to deal with in terms of reading their information or writing a useful tag for them. Such difficulties can be eased by using the 'Handy Flag Tags' – tags made from a special paper.
This label or tag can also be made bolder allowing for improved legibility. Due to the special bolding, a little distance is created between the product surface and the part of the tag which includes the RFID-encoded information. The information can then be read without being negatively affected by the surface. With the barcode reader no other devices or equipment are necessary – it is all included in one reader.
Adobe Reader is required to open and view PDF files. This can be downloaded free from adobe.com.
Available Documents
Weber's proprietary Legitronic Labelling Software provides the versatile label design, printing and RFID encoding features that are required to meet today's labelling requirements. The software is easy to use yet robust enough for industrial applications that need to use large databases.

As the cornerstone of our complete labelling systems, it is fully compatible with our extensive line of labelling equipment as well as most Zebra, Datamax and SATO label printers and print engines. An FDA compliance version also is available.

View Product

---

A core requirement of the European Directive 2011/62/EU that will come into force by 2016 is to equip the outer packaging of medicals with a tamper evident feature. Which should ensure the customer that he is the first opening the package.

View Product

---

Prevent medical errors, improve patient safety and increase caregiver productivity. The DS6878-HC cordless imager from Zebra enables hospitals to automate data capture, improve data accuracy, increase productivity and streamline everyday processes in patient rooms, admitting, laboratories and the pharmacy. Its matchless feature set meets the unique requirements of healthcare facilities. An intuitive and ergonomic design combines with dependable and rapid capture of barcodes and other images, allowing caregivers to remain focused on the patient — not the technology. The DS6878-HC is compatible with popular Bedside Meds Administration software including Cerner, Epic, Siemens, Eclipsys and Meditech.

View Product

---

At the core of the CT4i printers is a new generation ultra high speed processor.

View Product

---